Featured
Memorable getaway
Casting off your city clothes – and slipping on a yukata and pair of geta – is the first step to relaxation in this perfect onsen town.
As far as first-time onsen experiences go, mine went surprisingly well. I was in the town of Kinosaki in north-east Hyogo, steeping in the mineral-rich water of a romanesque-inspired bathhouse. Finding myself nude with my Mongolian exchange student and her host mother would have been mortifying under normal circumstances, but I was surprisingly relaxed. Sitting in steaming water while surrounded by cold air was deliciously invigorating, and the calm atmosphere of women chatting dissipated any shyness over being naked. After the bath, donning yukata robes and geta sandals, we enjoyed a dream-like stroll along the willow-framed river running through Kinosaki.
Since that day, "onsening", as I like to call enjoying hot springs, has become one of my favorite things to do in Japan. After onsening everywhere from Hokkaido to Yakushima, I can say with confidence that the site of my first onsen, the town of Kinosaki, is the perfect hot spring getaway. Located east of Kyoto on the Sea of Japan coast, the famous onsen resort has 1,300 years of history dating back to the Heian period. This means it has much more to offer than only hot baths. With narrow, shop-lined streets, striking mountain views, and local delicacies, it's a must-visit for anybody looking to relax or to experience the romance of classical Japan. And being only a couple of hours from Kyoto and Osaka, it can be tailored to suit a leisurely weekend or in-andout daytrip.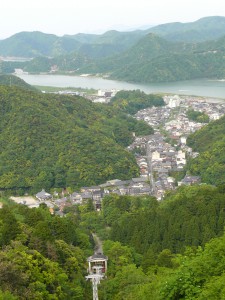 Founded in 717 AD by a priest named Douchi-Shonin, Kinosaki has a rich and magical history. According to folklore, Douchi-Shonin prayed for 1,000 consecutive days, causing hot springs to gush from the ground where the Mandara bathhouse stands today. Over the years, the town has attracted well-known artists, writers, and calligraphers, including the famous author, Shiga Naoya, whose stay at Kinosaki inspired his short story Kinosaki Nite (In Kinosaki).
Today, visitors to Kinosaki usually stay overnight at one of the many ryokan inns. These provide a traditional Japanese dinner and breakfast; yukata and geta; and free access to the town's seven onsen. It's tradition to visit every onsen, as each has uniquely lucky features. For example, Kouno-yu bathhouse is said to bless visitors with its healing powers.
One of the best things about Kinosaki is that it can be enjoyed at any time of year. Hitomi Taoka, whose family has owned Mikuniya Ryokan for over 100 years, says she loves the cherry blossoms that bloom at every turn in spring, and the summer fireworks that make the night sky and river sparkle. During the October autumn festival, the streets come alive with lantern parades and groups of men in traditional clothing who clash with one another in a ritual battle. And in the height of the busy winter season, nothing beats a hot onsen bath after a day's walk along snow-covered streets.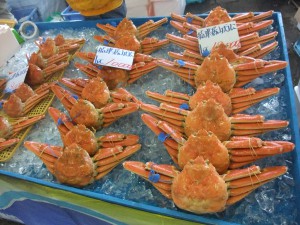 Winter is also the season for crabs, the local delicacy for which Kinosaki is famous. The most popular is Matsuba, a large male crab found along the Tajima coastline, that is pure indulgence when eaten freshly caught. Visitors can also taste beef from Tajima (the province from where all the world-famous Kobe beef cows originate) either at their ryokan or at a restaurant in town. Miki Okesho, whose family fish and restaurant business has been in Kinosaki for 40 years, also recommends Kaisen donburi, raw fish on rice, at her restaurant Kaichuen.
The town's small size means it's possible to take in all the sights in a few hours. But for the best experience, take a meandering stroll into the smaller side-roads to find quaint restaurants and shops. There is much to discover, like an old-fashioned arcade shop with purikura boxes, pinball games and retro toys on its shelves; a British pub; and the homey Sorrella Café that sells scrumptious homemade chocolate brownies and café lattes. "I really love my beautiful town, which has four wonderful seasons," says Juri Ota, who three-and-a-half years ago opened Sorrella Café next to her grandmother's 60-year-old omiyage souvenir shop. "We can enjoy great foods like fresh fish because we have great nature."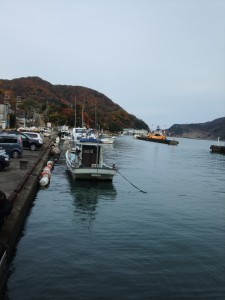 Those who enjoy adventure will love the activities in Kinosaki's surrounding Tajima region. A cable-car ride gives a spectacular view of Kinosaki and the Sea of Japan, and the walk back down is a thoroughly enjoyable way to see the area's beautiful nature. Taoka, the ryokan owner, recommends getting up early and hiking up Mount Kuruhi to see the amazing "sea of clouds" at sunrise. Beautiful sunrises and sunsets can also be seen by the grand Maruyama River, which runs by Kinosaki. "You can go down the river by canoe, and in winter you can skate by the river," says Okesho, owner of Kaichuen restaurant. Hiring bicycles (they come in electric too) is the best way to explore what the Sea of Japan coast has to offer, which includes white sand beaches and the entertaining Marine World aquarium that holds dolphin, penguin, seal, and sea lion shows.
Whether you are an onsen novice or expert, Kinosaki will undoubtedly be a favourite destination.
[box]
Ways & means:
For bicycle renting and assistance in finding last minute accommodation, visit the Kinosaki tourist information center, located to the left of the train station.
wwww.kinosaki-hotsprings.com
[/box]