Feature
Kansai on the up again as Gamba and Vissel prepare to rejoin J1!
Having dominated the second tier of Japanese football all year, two of the region's biggest teams lead the way in the fight for promotion to the top flight. Kyoto might even get in on the action too.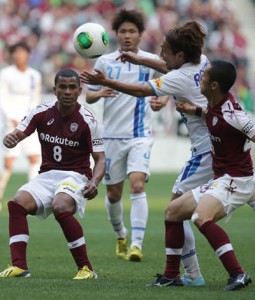 2013 has been an unusual year for fans of the beautiful game in and around the Kansai region.
Never before have the region's four professional J.League teams – Cerezo Osaka, Gamba Osaka, Vissel Kobe, and Kyoto Sanga – seen three of their number slugging it out in J2.
But after a disastrous 2012 season on the part of Gamba, finishing at an alltime low of 17th out of 18 teams in J1, and with Vissel finishing just one place higher, the stage was set for a year in which Cerezo alone would be flying the flag for Kansai up in J1.
Currently sitting in sixth position in J1, Cerezo's impressive season thus far sees them seven points off an automatic AFC Champions League slot for 2014.
And, while probably unable to challenge for the championship at time of writing, 2013 will no doubt be the year many will one day remember as when Cerezo held the mighty Manchester United to a 2-2 draw; a game that saw Shinji Kagawa return to play against the team at which he cut his teeth between 2006 and 2010.
Yes, the team from Manchester was on a pre-season tour in which it is often said European- based players sweat beer and rarely take games seriously; and yes, United were still experimenting with formations under a new manager, but for Cerezo the game was massive. One that will be remembered long after the 2013 season is laid to rest.
Down in J2 though, it is less about whether or not the Kansai teams challenging for promotion will make it into the top three, and thereby secure automatic promotion for next year, and more about 'will all three of them squeeze through?'
For Gamba, 2013 is the first time the team has ever played in J2. No doubt this fall from grace delighted their cross-city rivals Cerezo, whose own dismal 2007–2009 J2 run coincided with Gamba's most successful streak ever, which saw the team netting two Emperor's Cups, a Japanese League Cup, and the coveted AFC Champions League trophy in 2008.
Vissel too are relative strangers to playing at this level, with this year being only their second season in J2 since joining the J.League in 1997.
Kyoto meanwhile remained in J2 for a third successive season – their longest streak ever in the division – after a third place finish in 2012, but a poor showing in the play-offs.
As is, with Gamba and Vissel firmly anchored in first and second in J2 for so much of the season, both are pretty much guaranteed J1 football in 2014.
At the time of going to print, Gamba are on 70 points with Vissel two behind on 68 and cushioned by a 12 point gap to the third placed team Tokushima Vortis, one of four teams occupying the third to sixth positions permitted to play off for the third promotion slot.
Kyoto Sanga, the sometime forgotten boys of Kansai football, are currently one of those teams in a play-off slot meaning that if the stars above Gion and Kamogawa align properly we could have a 1, 2, 3 Kansai promotion scenario come December.
The odds are not great with Kyoto's inability to string successive wins together in recent months, and with a couple of in-form teams hot on their tail. That said, as the oldest team in Kansai by a country mile – founded way back in 1922 – perhaps, just perhaps, a slice of long overdue luck is headed their way, and 2014 will see J1 the home of Kansai's quartet of footy teams.
[box]
See a game
Those looking to catch a game in the closing months of the season should first head to the official J.League site at www.j-league.or.jp, which is available in both Japanese and English. Upcoming games are all listed with times of kick-off. At most games you will be able to pay on the day, but as the season draws to a close some games may sell out so it might be best to buy ahead of time at convenience stores or through the club.
Expect to pay between ¥1,800 and ¥5-6,000 for reserved seats. Oh, and how about a beer while you watch? It's no problem at all! Go for it.
Team Stats
Cerezo Osaka
• Home kit: Pink and blue, blue shorts, blue socks
• Home stadium: Kincho Stadium (Higashisumiyoshi-ku, Osaka; Tel: 06-6692-9011)
• Major honours (as pro team): none
• Highest J.League finish: 3rd in J1 (2010)
Gamba Osaka
• Home kit: Blue and black stripes, black shorts, black socks
• Home stadium: Osaka Expo Stadium (Suita, Osaka; Tel 06-6875-8111)
• Major honours (as pro team): J1 champions (2005), Emperor's Cup winners (2008, 2009), J.League Cup winners (2007), AFC Champion's League winners (2006)
• Highest J.League finish: 1st in J1 (2005)
Vissel Kobe
• Home kit: Crimson, white shorts, crimson socks
• Home stadium: Noevir Stadium (Kobe; Tel 078-685-5510)
• Major honours (as pro team): none
• Highest J.League finish: 9th in J1 (2011)
Kyoto Sanga F.C.
• Home kit: Purple, black shorts, purple socks
• Home stadium: Nishikyogoku Stadium (Ukyoku, Kyoto; Tel 075-212-0635)
• Major honours (as pro team): Emperor's Cup winners (2002), J2 champions (2001, 2005)
• Highest J.League finish: 5th in J1 (2002)
[/box]