Feature
Lounging around at Little Long Beach
Namba's friendliest bar offers food, drinks, and fun in an atmosphere warmer than a Southern Californian afternoon.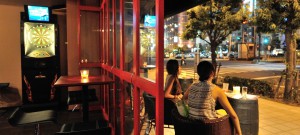 Osaka's bar scene is interesting to say the least. With a plethora of places lining the alleys of Minami, one can always find a nook or cranny to fall into at any hour for an often hazy episode unremembered until that flashback a few days later. Yes, the bar scene here indeed possesses a certain excitement for us foreigners, but do you ever feel that it lacks that passion and sense of community that we are used to with the bars and pubs back home?
Introducing Little Long Beach (in case you haven't heard the name already), one of the true institutions of Osaka's good time drinking community and the brainchild of owner and manager Chad Bunch. Starting off 12 years ago as a Nihongo student with an eager eye on bar work in a foreign land, Chad worked his way through the ranks of Osaka's bar scene earning his stripes, and learning so much that within just six years he was able to open Little Long Beach in its original location, which happens to be right across the street from where he opened the new and improved current location a year ago on the back of his initial success.
"I didn't want to create just another hole in the wall to get drunk in; my vision was to create a warm, friendly space for people to get to know each other, to help create a community of good people."
It's clear that Chad takes his ethos seriously because every facet of the bar has been tailored to be conducive to mingling; from the employment of exclusively bilingual staff making both Japanese and foreign customers feel at ease, to the staggered seating arrangement and design of the tables that tempt customers to make new friends. His philosophy stretches down to the finest detail, even deciding to keep the alternative rock soundtrack of bands like The Offspring, the Red Hot Chilli Peppers and Sublime to a level that allows people to be heard while speaking.
"The Mission of this bar is to bring people of different backgrounds together and encourage enrichment through friendship."
So what's on offer at Little Long Beach? As well as the warm, red motif that emanates that southern California vibe, and the large seated patio that promises to come into its own on those languid Osakan summer evenings, this place also boasts a 50-inch flat screen TV on which World Cup replays will be aired this summer at more palatable hours than the 4am kick-off time.
In addition to an impressive and reasonably priced selection of whiskeys and liquor, not to mention Heartland beer and Kirin's new Hard Cider on tap, Little Long Beach offers a gnarly selection of Californian style food – pizza, nachos, and quesadillas…even beef jerky; all prepared from scratch with the best ingredients by Chad and his team.
"There's plenty of awful bar food out there but I make sure I do it right. I research thoroughly and import as many ingredients as possible from the States, even down to the beef!"
So if you haven't already, why not give Little Long Beach a try and experience a bar as it should be; with great food and drinks, a warm atmosphere, and a solid community behind it. With summer 2014 just around the corner, there's no better time to go and check it out.
[box]
Little Long Beach
• Address: Osaka-shi Naniwa-ku Motomachi 1-4-22 1F
• Tel: 06-6567-8685
• Opening hours: Mon-Sat 6pm–2am / Sun 6pm-midnight
• Facebook: littlelong.beach
[/box]