Food & Drink
Foodspotting
The narrow lanes of Ura-Namba – "the back of Namba" – are home to some of Osaka's many wellkept culinary secrets. Here are three of the best…
Shimotaya
The specialities at this classy but unpretentious old wooden house are oden (vegetables, meat, egg, and tofu soaked in a delicious broth), sumibiyaki (chargrilled chicken or beef), and sashimi. The sashimi (¥980) is especially good. Beautifully presented and deliciously fresh, we are served an assortment of five types of fish (sole, sea bream, salmon, tuna and amberjack) on a colorful platter of grated daikon and red cress. Though most diners seem to be drinking Premium Malts (¥450), there is an extensive sake list to explore. Try the fun taster menu, which allows you to sample three different local sake (¥980). Don't be deterred if the restaurant appears full at first sight – it is deceptively spacious. The ground-floor counter-diner seats about eight, as does the middle floor, where the kimonoclad owner Futami Iguchi chats cheerfully with her customers. But go up another flight of stairs and you reach a cool split-level loft, with seating for at least 20 people.
Address: Nanbasennichimae 15–24 • Open: 5pm–11pm (Sun–Thu), 5pm– 12:30am (Fri–Sat) • Price Range: Approx. ¥3,000/person • Access: Namba Nankai Stn, 2-min walk • chikuchikuya.com
Enya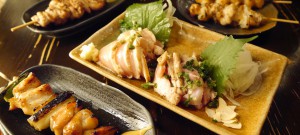 A few doors down from Shimotaya is Enya, a lively izakaya with a great atmosphere. Unlike the singer of the same name, this Enya attracts a youngish crowd and treats them to an eclectic soundtrack. This might be the only place in town serving up both Radiohead and Bruno Mars alongside skewers of tender chicken (¥100–¥220 a piece). As you'd expect in a yakitori joint, chicken dominates the menu. And we're not just talking smoky chunks of breast and thigh, but pretty much every body part imaginable, from skin to neck and pleasingly crunchy cartilage. Even the ramen (¥620), with which many diners round off their meal, is served in a chicken broth. For drinks, forego the Asahi (¥450) and try a Minoh craft beer (¥900), yuzu highball (¥420) or fruit sake (¥700). Dessert is on the house, so save room for a little bowl of free – and chicken-free – ice cream.
Address: Nanbasennichimae 14–6 • Open: 5pm–1am (last order 12am) • Price Range: Approx. ¥3,000/person • Access: Namba Nankai Stn, 2-min walk • enya-food.jp
Yakiniku Suzaku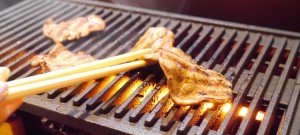 Fittingly for a living-room-sized restaurant, the mood at Yakiniku Suzaku is relaxed and homely. The chef and waitress double act serve as your surrogate parents for the night, while the cramped and cluttered cooking space brings to mind a real Osakan kitchen. The organized mess of pots and pans suggests the focus is firmly on the food, and so it proves. We grill our moreish cuts of beef (tongue ¥800, karubi ribs ¥800, sirloin ¥1,000) on a neat little table-top barbecue. The reimen (Korean-style cold noodles, ¥500) are a tasty, prettily presented bargain, and a perfect accompaniment to the richness of the beef. Though hard to find, this secluded spot, and its friendly neighbors, are worth seeking out. From the southern entrance of Doguyasuji, walk north until you reach a shop called Goodies on your right. Opposite is a tiny corridor, down which Suzaku is the second door on the left.
Address: Nanbasennichimae 14–18 • Open: 5pm–10pm (Sun–Thu), 5pm–2am (Fri–Sat) • Price: Approx. ¥2,000/person • Access: Namba Nankai Stn, 4-min walk • Phone: 06-6648-8629