Articles
Five Top Tips for a Fabulous Fall
Blink and you'll miss it – don't let the fall season pass you by!
Here are five tips for making the most of this beautiful time of year.

1. Soak in the Serenity at Kyoto's Glass Teahouse
This sightseeing spot is a little deceiving as you won't be able to experience a traditional ceremony in this teahouse, or even drink tea. However, since it is installed in front of Seiryu-den, the towering 220-meter viewing platform of the Buddhist temple Shoren-in, it boasts one of the best views in Kyoto.
Kou-an is a transparent teahouse designed by Tokujin Yoshioka that strips away all of the traditional elements associated with tea ceremony, such as the actual tea ceremony, tatami (traditional straw mats), and tokonoma (the little alcove a few inches above floor level for displaying flowers, pictures, ornaments, etc.). Made of glass and set on a Kyoto mountainside, closeness to nature is the obvious emphasis of this structure. Located atop Shogunzaka Mound, the teahouse offers a view of the entire Kyoto cityscape. After your visit, take a walk through the Japanese gardens during the annual autumn light up event, which boasts stunning red maples and Zen rock gardens.
---
Access
Tozai Subway Line, Keage Stn, 5-min taxi ride to Shogunzaka
Admission: ¥500
Open: Regular hours 9am–5pm; Fall hours 9am–9:30pm
tokujin.com/en/news
---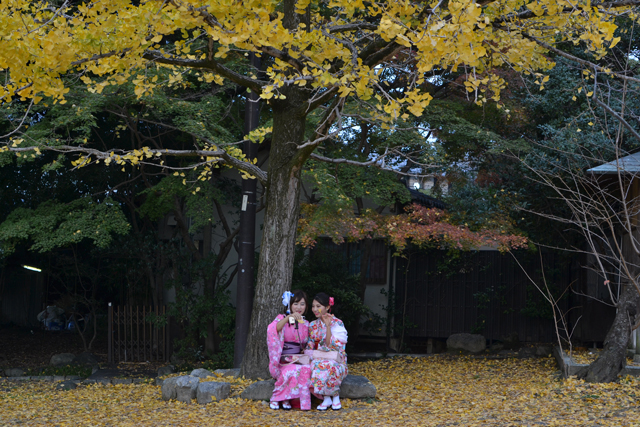 2. Picnic Under the Fiery Leaves
While the springtime hanami may be one of Japan's most charming attributes, fall is arguably just as lovely a time to pack up a lunch and sit outside under the foliage. Thankfully, Kansai is blessed with beautiful parks that are easily accessible by train. Try Utsubo Park, located centrally in Osaka near Honmachi station, for a picnic lunch with coworkers or friends. If you're willing to go a bit out of your way, head over to Hattori Ryokuchi Park, located right outside Ryokuchi-koen station on the Kitaosaka-Kyuko Line.
Check out the Open-Air Museum of Old Japanese Farm Houses while you're there to get a glimpse of the different types of rural architecture used in Japan over the years. And for some truly gorgeous fall leaves steeped in history, take a stroll through Maruyama Park in Kyoto. Towards the Yasaka Shrine entrance, there is an enormous gingko tree that explodes into a shower of gold during the fall – an ideal place for a picnic.
---
Access
Utsubo Park: Hommachi Subway Stn, Exit 28, 5-min walk
Hattori Ryokuchi Park: Ryokuchi-koen Stn, 5-min walk
Open Air Museum: 9:30am–5pm (closed Mon)
Admission: ¥500
occh.or.jp/minka
Maruyama Park: Gion-Shijo Stn, Exit 7, 10-min walk
---
3. Hike Amongst the Foliage
Fall is the perfect time to reconnect with the outdoors after a long, hot summer, and what better way to do that than to hike up one of Japan's many beautiful mountains? In the Asuka region of Nara, you can climb Mt. Takatori. This trail leads you through some beautiful foliage until you reach the ruins of an old castle. The hike down takes you by Buddha statues carved into the mountainside. If climbing seems too strenuous, try the easy walk along the abandoned JR Fukuchiyama train tracks near Takarazuka. Surrounded by picturesque mountains and clear rivers, the walk is a perfect way to stretch your legs before you retreat under the kotatsu for the winter. Don't forget to take your flashlight because the old tunnels are pitch black even in the middle of the day.
---
Access
Mt.Takatori: Tsubosakayama Stn, 25-min walk to start of trail
JR Fukuchiyama Tracks: Namaze Stn, 25-min walk to start of trail
---
4. Host a Nabe Party
What's a more perfect way to welcome the cooler temperatures than to host a nabe party? Nabe (Japanese hot pot) is an easy dinner and doesn't require much space. A table and a few seats with very little need to prep other than chopping and stirring. Ask your friends to help chop the vegetables, or to make cute little flowers out of carrots (try Daiso for the carrot flower punches!). One soup flavor is good enough for a few people, but if you have more than four guests ask one of them to bring over a spare nabe and stove.
A bowl of rice is the perfect side and it's simple to throw any extra rice in the leftover soup to make a risotto. While it's easy enough to buy a soup packet at the store, making your own lets you control exactly how it tastes. One favorite in Japan is kimchi (Korean fermented vegetables) nabe and it's not difficult to make. Chop up a bit of garlic and ginger and fry it in the nabe with sesame oil. After becoming fragrant, add a package of kimchi minus the juices and cook for a few minutes.
When you're ready, add in the juices, water/chicken broth, soy sauce, Korean pepper paste (gochujang), and alcohol, like sake or Korean soju (like Japanese shochu). Simmer on low and do the rest of the ingredient preparation. Some recommendations for your nabe: dumplings, nira (chives), chicken meatballs, shitake (mushrooms), fried tofu, or carrots. Feel free to get creative with the ingredients – nabe is a flexible dish!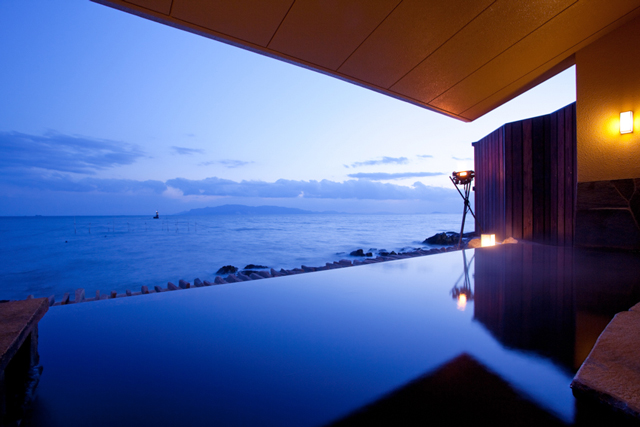 5. A Long, Hot Soak in the Onsen
One can't think of Japan without thinking of the bubbling hot springs dotted all over the country. They're as ubiquitous as chopsticks and soy sauce. Fall is the perfect time to sit outside in a rotenburo and soak in all the minerals from the natural springs. Kurama Onsen in Kyoto is a favorite among Kansai residents. Located on the side of a mountain, the outdoor bath is surrounded by gorgeous pines. If ocean views are more your thing, Ako Onsen in Hyogo prefecture has ocean and mountain views. Gimpaso Hotel boasts an infinity-pool outdoor bath that stretches out over the ocean. Relax outside with the cool fall ocean air surrounding you.
---
Access
Kurama Onsen: Kurama Stn, 12-min walk or free shuttle bus
Open: 10am–9pm
Admission: ¥1000 for open-air bath
kurama-onsen.co.jp/index_e.html
Ginpaso: Banshu-Ako Stn, call for free shuttle bus
Admission Ginpaso Onsen: ¥1700
Open: 11am–8pm (maintenance on Mondays)
ginpaso.co.jp/e
---