Articles
Red, Leafy Locations for Your Autumn Itinerary
Ready to get red and festive? Here are six spots to add to your list for this year's Kansai autumn adventures.
For the Early Birds
Koyasan, Wakayama
The towering maple trees around the Buddhist village of Koyasan provide attractive seasonal colors from around late October to mid November, making Koyasan a great destination for those visiting Kansai region too early to see the colors in the lower elevations (or for those too impatient to wait!). The trees around the Konpon Daito (the Great Stupa) area at the western end of town are a truly magnificent sight to behold, while the middle of Okunoin, the cemetery on the eastern end, also boasts some photogenic fall foliage.
---
Access: Take the Express train on the Nankai Koya Line from Namba Stn to Gokuraubashi Stn • Take the cable car from Gokurakubashi Stn to Koyasan Stn
---
To Reflect
Kobe Municipal Arboretum, Hyogo
At the foot of Mount Rokko, the Kobe Municipal Arboretum is home to gorgeous maple trees surrounding Hase Pond whose branches hang over the water creating picturesque red and orange reflections. Situated in the southeastern part of Hyogo prefecture and a part of the Setonaikai National Park, the 142.6-hectare botanical garden and arboretum was founded in 1940 with the goal of providing views of seasonal deciduous trees and flowers. After 4.30pm, the rows of Japanese maples and red dawn wood on the hydrangea slope are lit up (call or check website for dates). This arboretum is at a higher altitude, so the leaves change color earlier than urban areas.
---
Access: Kobe Electric Railway, Kitasuzurandai Stn, 10-min shuttle-bus ride • Open: 9am–5pm (until 6:30pm during the autumn leaf light up season) • Closed: Wed (no closed days during autumn-leaf walk period) • Admission: ¥300 • kobe-park.or.jp/shinrin
---
Somewhere More Central
Kyuanji Temple, Ikeda, Osaka
Located on the outskirts of Osaka, Kyuanji is a Buddhist temple renowned for its legacy of buildings from its long history and the beautiful garden where autumn is the most spectacular season. Its momiji (maple leaves) turning a fiery red color and a momiji matsuri (maple-leaf festival) is held here on Nov 3rd every year.
---
Access: Hankyu Takarazuka Line, Ikeda Stn, 15-min bus ride to Kyuanji
---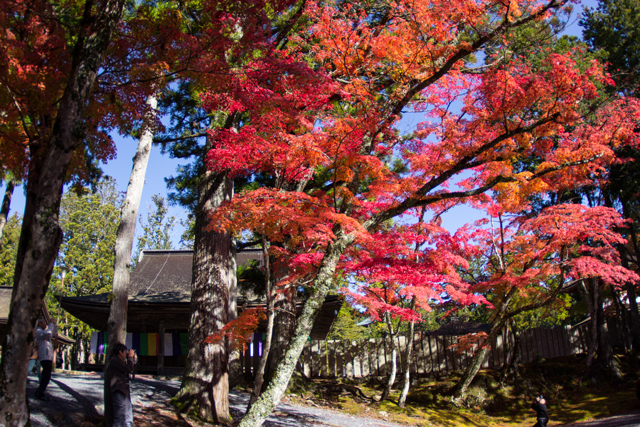 An Alternative View
Mount Yoshino, Nara
Mount Yoshino is most famed for its vast display of cherry blossoms in the spring, but it also offers beautiful views of the turning autumn leaves too. The view from the cable car is spectacular as the station is surrounded by a host of autumn colors. Yoshino sites that are particular autumn standouts include Zao Hall at World Heritage site of Kinpusenji, and Saigyoan, a humble little hut that once belonged to a monk named Saigyo. This site is dominated by a huge maple tree with fiery leaves and gnarly roots – a perfect picnic stop. If you have time for an all-day or a weekend trip, don't miss the multi-colored beauty in the hills of Yoshino this autumn.
---
Access: Take a limited express train on the Kintetsu line from Osakaabenobashi Stn to Yoshino Stn
---
A Must-See Kyoto Spot
Eikando Temple, Kyoto
Not far from the well-known Nanzenji Temple and the southern end of the Philosopher's Path, with maple trees arching over Hojo Pond and its bridge, Eikando temple is one of the most photogenic autumn-leaf spots to visit. Usually, in the second half of November the leaves around Tahoto Pagoda and Hojo Pond turn crimson red, and there are spectacular evening illuminations of the momiji during this time.
---
Access: Tozai Subway Line, Keage Stn, 20-min walk • Open: 9am–5pm (special evening hours during autumn illuminations) • Admission: ¥600 (autumn daytime: ¥1000; autumn nighttime: ¥600)
---
A Little Further Out
Takao, Kyoto
Worth a visit at any time of the year, Takao is most popular during the autumn-leaf season, which usually peaks around mid November. The Takao area is perfect for hiking, temple visiting, and enjoying breathtaking views of nature. This quaint village in the Kitayama Mountains, about 15 kilometers northwest of Kyoto, rivals Kurama and Kibune as the best Kyoto daytrip for nature lovers.
Around an hour northwest of Kyoto by bus, Takao is home to three historic temples along its forested valley: Jingoji, Saimyoji, and Kozanji.
Jingoji Temple is the most visited among Takao's temples. A long set of stone stairs make for an impressive approach – particularly when lined either side with scarlet maple leaves. There is a large entrance gate and multiple halls, as well as a path to an observation point with views over the valley. It is definitely one of the most beautiful temples in the Kyoto area. There is also the opportunity for a marvelous hike from Takao down to Hozukyo on the JR Sagano-San-in Line.
---
Access: By bus from JR Kyoto Station: Take a JR bus for 50 mins to Yamashiro Takao.
By bus from Nijo Station: Take Kyoto City Bus #8 and get off at Takao • Jingoji: Open: 9am–4pm • Admission: ¥600
---