Travel
Kayaking Miyajima
Take an alternative approach to seeing one of Japan's most popular tourist attractions; visit Miyajima's floating shrine by kayak!
Miyajima, the romantic and historical island near Hiroshima, has long been ranked one of Japan's top three most scenic places to visit. Over 1,400 years old and a registered World Heritage Site, it is easily recognized by the famous Itsukushima Shrine and its 'floating' torii gate, which appears to sit on the calm blue waters of the Seto Inland Sea during high tide. However, with the great popularity of this iconic site come the huge daily crowds, most of whom access the island via the JR Miyajima ferry.
If you want to visit the island but are not keen on the idea of navigating your way through masses of tourists, there is another way to discover this beautiful area that even allows you to explore the floating torii without any other people around; and that's by taking a kayaking tour!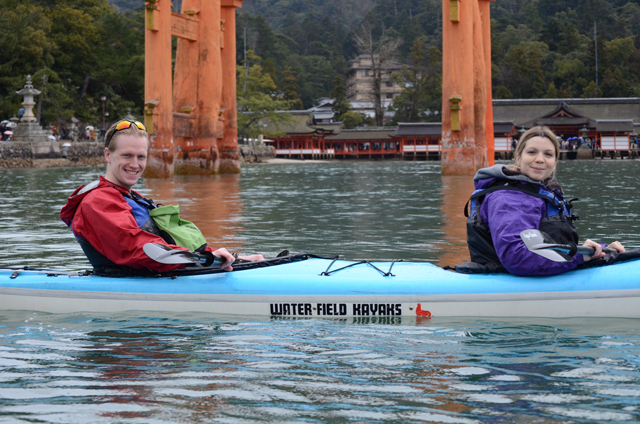 The morning of our tour, we arrived at Paddle Park Miyajima and were greeted by the friendly owner and our guide for the day, Masashi. After donning the appropriate attire of waterproof jackets and shoes, my paddling partner and I settled on a double-seated kayak. After a few moments of fumbling around with the oars and trying to synchronize our paddling motions, we were off!
The kayaking journey from the paddle park to Miyajima is around 1.5 km and takes approximately one hour, paddling at a very leisurely pace. Often we would stop for a few minutes to rest, chatting with Masashi along the way.
We passed fishing boats and nets filled with the delicious oysters that are grilled daily on the streets of Miyajima. Tourists lined the shore in the distance, cameras flashing, taking their travel snaps of the famed Itsukushima shrine.
Because of the high tide, we in our kayaks were the only ones with access to the majestic torii gate rising up from the water. After a few minutes of paddling back and forth between the giant vermillion pillars, we made our way over to the shore.
Omote-Sando is the name of the main street stretching from the port to Itsukushima Shrine and it boasts many souvenir shops and quaint cafes on both sides of the street, offering local delicacies including conger eel and grilled oysters. We made sure to spend some time exploring the traditional machiya townhouses that line the backstreets before, all too soon, it was time to jump back into our kayaks and set off on our return to the mainland.
Paddle Park
Tel: 0829-50-4340
Where: JR Maezora Station, 1-min walk
Address: 1-2-9 Monomi Higashi Hatukaichi-shi
Cost: ¥6,480 per adult for a half day including all rental equipment
paddlepark.com