Travel
Japan's Snowy Wonderland
Escape to Hokkaido's winter sports haven.
Hokkaido, Japan's large Northern island, is a special place for winter lovers. The best skiing and snowboarding in the country is found in this powder snow paradise. The main ski resorts are largely consolidated in two areas of Hokkaido. The most international and well-developed ski resorts can be found in Niseko, but there are two hidden gems that make for a superb Hokkaido ski trip, both easily accessible from Asahikawa, Hokkaido's second-largest city.
Kamui Links is an excellent small-scale ski destination and definitely worth a day or two on the slopes. There are a variety of runs, some chairlifts, and a gondola. With much fresh terrain to explore and minimal lines and traffic, you can get a lot of runs in. The lift tickets are inexpensive (¥3,100 for a one-day pass) and the fully stocked rental shop is also convenient for those without their own equipment. The majority of skiers and boarders here are Japanese, although services are available in English as well. The slightly dated decor adds to the charm of the resort where the food is plentiful, inexpensive, and delicious. However, it is not a full-service resort, so staying in Asahikawa or even Furano and traveling to Kamui Links is recommended.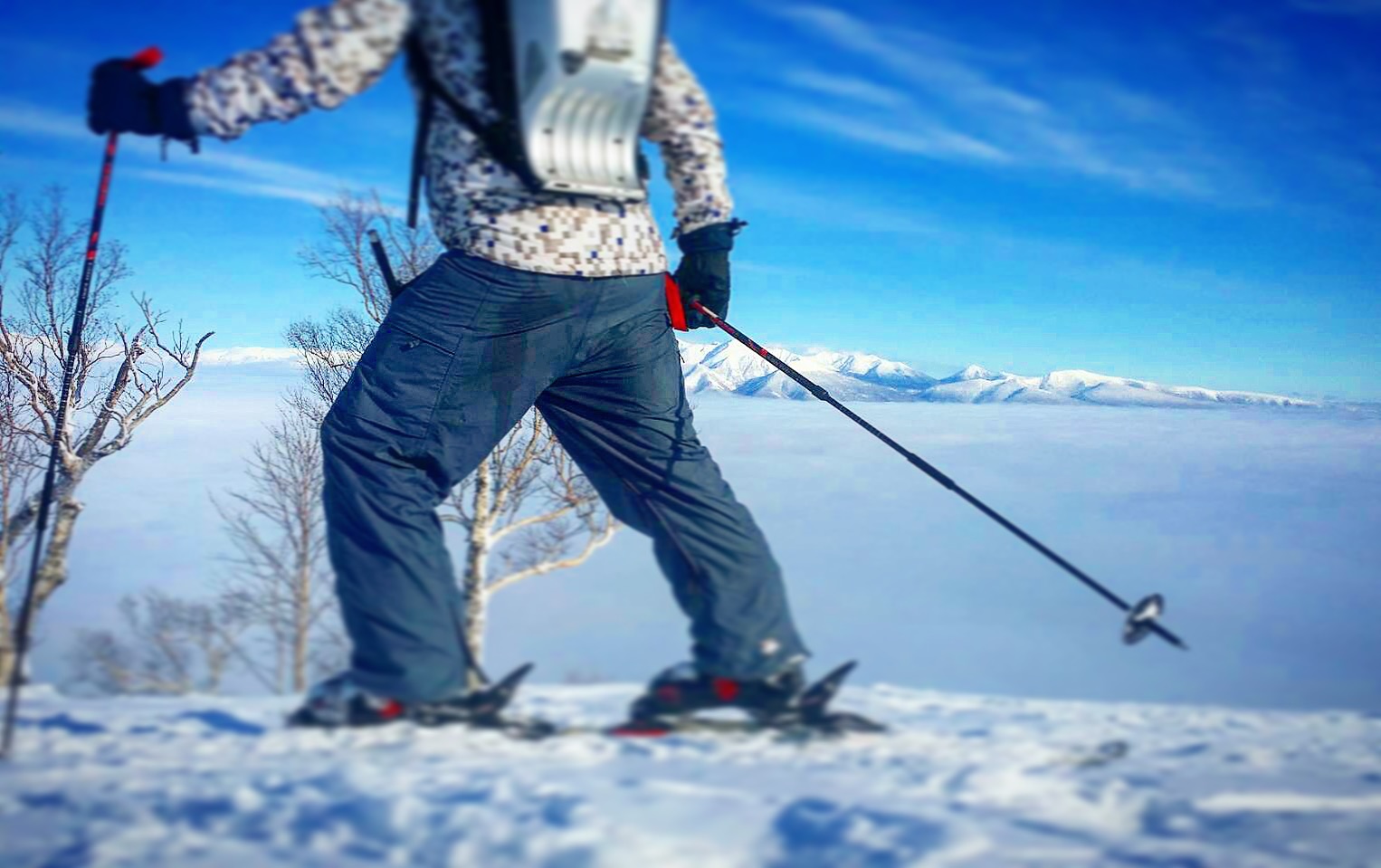 There is no better location than the volcanic mountain of Asahidake, which attracts serious skiers, snowboarders, and climbers, but it is not a ski resort. Rather, it is a ski destination. There are no equipment rentals, no safety patrols, no staffed emergency services, no night skiing, no chairlifts, no ATMs, and no credit cards are accepted, so bring cash. There is just a small gift shop which stocks locally produced beer, some rental lockers, a restaurant, some washrooms, and vending machines at the base station. An all-day lift pass is ¥4,500, and the hour-and-a-half bus ride to and from Asahikawa costs ¥1,500 each way. The ropeway leaves every 20 minutes to carry riders up the mountain. At the top, there are two choices; advanced to the right or intermediate to the left. Beginners should avoid Asahidake, but if you are confident of your skills, these runs are some of the best in Japan. The world-famous Hokkaido powder is found amongst the trees off the narrow groomed trails, and the top half of these runs is the most challenging. The runs then flatten out along the bottom section and the two trails connect, leading skiers and snowboarders back to the ropeway station. Many snowboarders even carry collapsible poles to push their way back along some of the flat sections at the base of the run. These breathtaking views and deep powder snow will have you instantly hooked and forever a fan of Asahidake.
If you want to include a rest and relaxation day into your itinerary, why not try out the highest onsen in Hokkaido? Tokachidake Spa can be reached by bus from JR Kami-Furano train station where you can enjoy a steamy bath and a ¥1,300 lunch set. The bus to the onsen is infrequent, so planning this excursion in advance is important. The cost of the bus is ¥500 one way and takes roughly one hour in each direction.
Perhaps the most well-known resort of the Asahikawa area is The Prince Snow Resort in Furano. It offers something for everyone, with many family-friendly activities and services, including the ski slopes, a full-service hotel resort with spa, a neat little art and craft shopping area divided amongst dozens of log cabins, an illuminated snow-and-ice area, and even a secluded bar in the middle of the woods. If you want the full ski resort experience, the Prince Resort is the place for you.
Moving on to Niseko, where there are various places to get your skiing or snowboarding fix. Grand Hirafu is one of Niseko's well-known resorts and is flanked by three other resorts on Mount Yotei. At the base of Yotei, you will find various restaurants, cafes, hotels, and shops with the latest ski and snowboard gear and accessories.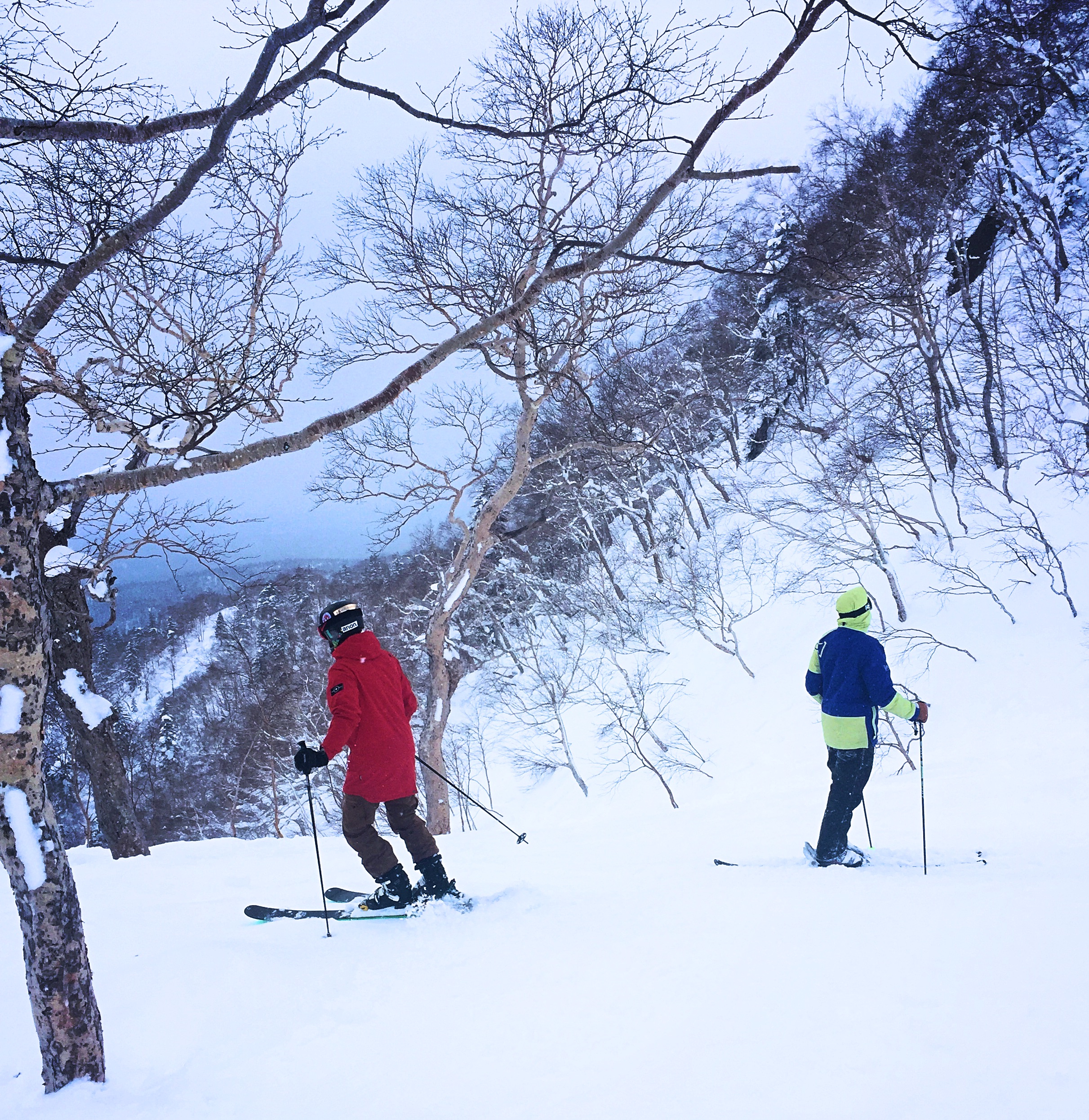 Rusutsu Resort, based mostly on Mt. Isola, is about a 30-minute drive from Niseko and is an excellent option for skiing and snowboarding. This full-service resort offers two main ski grounds. On the West Mountain, there are more family-friendly runs and this is where the night ski area is located. On the Mt. Isola side, there are more challenging runs, a small terrain park, and some great tree runs. A gondola shepherds guests back and forth between the two areas.
Niseko is also the area of choice if night skiing is your thing. Keep in mind that Niseko and the surrounding resorts are full of international tourists, overpriced cafes, and high-end accommodations, so prices here are some of the highest in Japan. The town and resorts employ mostly Australian and Canadian seasonal ski instructors, restaurant and ski shop staff, hotel staff, and other tourist-friendly employees. The most convenient place to stay in Niseko is relatively close to Hirafu and access to the resorts of Grand Hirafu, Hanazono, Moiwa, Rusutsu and Niseko are fairly easy if you are based close to Hirafu. There are smaller, cheaper guest houses, pensions, and hostels dotted around the area. In Niseko, I enjoyed the relatively well-priced and comfortable Karimpani Niseko Fujiyama which is a hostel-type accommodation in an old converted school house. The Black Diamond Lodge, also in Niseko, attracts an international crowd and has a lively bar.
Lift tickets and resort access in Niseko are pretty straightforward, and there are a variety of passes and lift ticket options. There are single-ride tickets, all-access passes, and multi-day lift tickets. An all-mountain one-day pass, which features access to Niseko Annupuri, Niseko Village, Niseko Grand Hirafu, and Niseko Hanazono, costs about ¥6,000 and is a great way to explore all the area has to offer.
---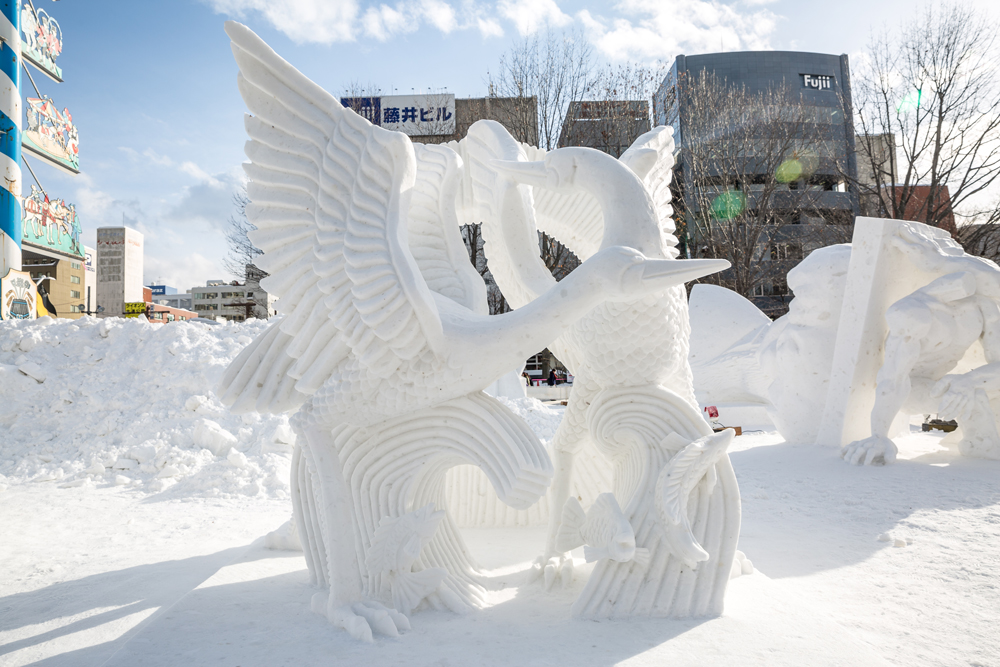 2018 Snow Festivals
February is the perfect time to visit Hokkaido because one of the biggest events of the year, the Sapporo Yuki Matsuri, is on from February 5th to 12th. The festival is centered around Odori Park where the most stunning snow and ice sculptures are exhibited, the largest of which are nearly 30 meters wide and 15 meters tall.
The Susukino site features beautifully crafted ice sculptures. Make sure to get a hot drink at a very cold bar, the Ice Bar, where the entire bar is made of ice!
The Tsu Dome site is a less centralized, but a more family-friendly aspect of the Snow Festival. With more snow sculptures, sledding and snow rafts, food stalls, and event stages, this location has something for everyone.
Asahikawa also hosts a smaller, but still impressive, winter festival from February 7th to 12th. The largest draw at the Asahikawa Festival is the mammoth snow sculpture beside the Asahibashi bridge. Along the riverside, there are various attractions including small sculptures, snowmobile rides, sleigh rides, snow slides, an ice bar, and a fireworks show for the opening ceremony. Walking along Heiwa Dori from JR Asahikawa Station to the riverside festival grounds, there are nearly 50 ice sculptures on display, which are even more striking when lit at night.
---
Gear up
If you are looking for the best gear, there are two standout brands associated with the Niseko ski and snowboard scene. Oyuki is a Niseko-based ski and snowboard glove maker and their extensive line is impressive. Roko Skis are also made in a small custom factory at the JR Kutchan station.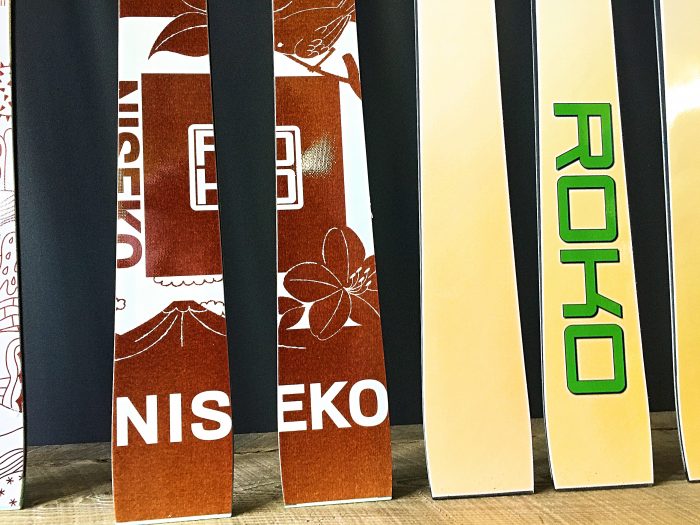 ---