Featured
Go north, life is powdery there
Hitting Niseko's perfect slopes and resorts is the best way to embrace winter, writes powder professional Kristian Lund.
There's a long-running argument among those who have skied and snowboarded in Japan about where the country's best ski experience is to be found. Google "Niseko or Hakuba?" and you'll find hundreds of forum posts on dozens of websites dedicated to thrashing out the subject. But you probably won't find an answer to your question because, well, there isn't one. Honshu's Hakuba has bigger mountains and steeper slopes; Hokkaido's Niseko has more powder and mellower terrain. And each has dozens of variables offering something for everyone in between – on and off the slopes.
So I'm not here to try and crack that old chestnut, but I am here to tell you all the good bits about Niseko. And of those, there are plenty.
First, let me set the scene: Niseko consists of four very different resorts – Hirafu, Hanazono, Niseko Village and Annupuri – all with terrain to suit beginners to advanced skiers. The four resorts, which run down wide strips on different sides of Mount Yotei, are interlinked at the top and can be skied between with ease on an All Mountain Pass, or bussed between if the lifts are closed.
The villages at the base of each resort also offer very different experiences. Make sure you choose the one that suits you and your travel party. Hirafu is basically the hub of Niseko. It's packed with restaurants, bars, ski schools, tour operators, shops and accommodation. If you ask me, this is the place you want to stay unless you've got a good reason to go elsewhere.
At latitude 42° degrees north of the equator, Niseko is a lot colder than its southern Japanese counterparts, which means one thing – powder! When moisture-laden storms cross the Sea of Japan from Siberia, conditions are ripe for any precipitation to fall as super light, incredibly dry powder snow. Yippee!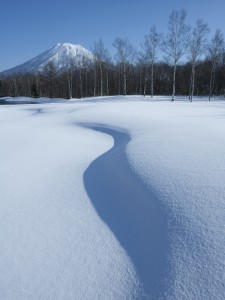 This cold climate also makes for a long season. Generally the lifts start spinning in late November and shut down almost six months later after Golden Week at the start of May. January and February is "peak season", when you might have to put up with a few other powder-seeking holidaymakers, but also when you're very likely to get weeks on end where it will dump snow EVERY – SINGLE – DAY. And that's no exaggeration.
However, one little local secret I'll let you in on is this: if you're into fair-weather skiing and want to avoid the crowds, March can offer the best conditions of the season for all types of skiers. In March it doesn't snow as much but when it does, the hills come alive with the sound of locals hooting with delight as they plough through fields of untouched powder that stay fresh all day, often with blue spring skies to boot. The warmer weather is great for families, it's easier to get bookings in all the restaurants, and there are always great accommodation deals for the last major month of the season.
Unlike so many Japanese resorts, in Niseko there's still plenty to do when the sun goes down. There's no donning a yukata and strolling around the hotel lobby; here, you'd better bring some decent threads to mix it with the après ski set. The resort boasts a thriving dining scene with everything from tiny izakayas to Irish pubs and Michelinstarred restaurants. And when it comes to the bar scene – choose your own adventure! From umbrella bars to whiskey bars and Japanese reggae bars, you'll find a party to suit your mood.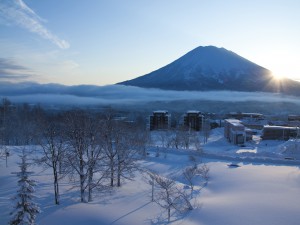 One thing that makes Niseko unique among Japanese ski resorts – and indeed Japan – is the foreign influence. It would have to be one of the most culturally diverse concentrations of people in Japan. Not to mention an eclectic crew of creative Japanese skiers, snowboarders, chefs and artisans who have been drawn to the area's magnificent Mt Yotei and started their own unique restaurants, bars and businesses. Places like the Gentem Café inside a Mongolian yurt tent, Gyu+ Bar with its fridge door entrance, and rainbow-themed snowboard school Teru's Happy Vibrations, are some of the most interesting places to be found anywhere in Japan.
Put it all together and you have some of the quirkiest, coolest, snowiest little ski resorts in Japan… if not the world. With several new low-cost domestic airlines starting direct flights to Hokkaido this year, there's never been a better time to cross Niseko off your Japan to-do list.
Kristian Lund is a journalist, powder snow aficionado and publisher of Powderlife Niseko magazine and www.powderlife.com
Tips for getting the most out of Niseko
Ski passes
True beginners can save with a "point ticket" (pay for how many lifts you use) or a five-hour ticket (all you can ride). Those keen to explore every resort can upgrade to an All Mountain Pass (¥1,000 extra). You can buy passes at the base of the mountains.
Niseko's semi-secret resorts
Moiwa, a few minutes past Annupuri, offers some of the best relatively secret off-piste skiing in the area. Rusutsu, about 30 minutes drive away, is Hokkaido's biggest resort and will serve up fresh powder all day after it has snowed. Ask local tour operators.
Yumeguri Onsen Bus
By far the best way to try the many hot springs dotted throughout Niskeo's volcanic landscape. The bus (¥500) passes the most popular onsens, and the Yumeguri Onsen Pass (¥1,400) gives you entry to three participating onsen. Inquire at your hotel or local onsen.
[box]
Eat & Drink
Tsubara Tusbara
Local specialties loaded with local produce. Izumikyo, just outside Hirafu, on the free shuttle bus route. Bookings usually not required. Tel: 0136-23-1116.
Izakaya Rin
Be sure to order their shime saba and sun dried squid tempura. Hirafu Lower Village. Bookings essential in winter. Tel: 0136-22-1444.
Kamimura
Enjoy a 10-course degustation at a Michelin-starred restaurant. Central Hirafu. Bookings essential. Tel: 0136-21-2288.
Stay
Shizenkan Backpacker
For those on a shoestring budget. Izumikyo (www.niseko-backpacker.com). The Vale Splash out at Niseko's premier ski-in/ ski-out location. Hirafu Upper Village (www.thevaleniseko.com). Annupuri Village In a remote location, true alpine ski chalets sleeping up to 10 people. Annupuri (www.annupurivillage.com).
Book these powder pads and more at www.powderlife.com.
[/box]