Feature
5 Top Fishing Spots to Drop a Line in this Summer
Cast your bait, flies, and lures into Kansai waters and catch yourself a feast.
Kansai and surrounding prefectures provide a plethora of options for both freshwater and saltwater fishing. If you're looking for a summer adventure or a fun family day out, grab a rod and get out to one of these scenic Kansai fishing spots.
1. Hyogo
The easiest and quickest way to get involved in the local fishing scene is to head to Suma in Hyogo prefecture and visit the Suma Marine Fishing Park which operates on a 500-meter-long pier extending out into the ocean. The closest train station is Sumarakoen Station, and the fishing park is a quick walk from there. It opens at 6:00 a.m. daily (closed Tuesdays). The Marine Fishing Park boasts a variety of species along the pier and is child-friendly with life jackets available for young fishers. You can rent a fishing rod and tackle for around ¥2,000.
2. Shiga
More experienced anglers can head to Lake Biwa in Shiga to try their hand at bass fishing. There are some guided services available, some of which provide tours in English. One such service is Truth Fishing Guide Services which offers one- or two-day fishing packages starting at ¥55,000 for individuals or pairs. Biwako is dotted with a variety of marinas stocked with well-equipped fishing boats, bass-fishing tackle shops, and plenty of shoreline fishermen who try their luck in Japan's biggest freshwater lake.
On Biwako, it is best to start early, and according to local guides, summer is the best time for bass fishing. The record largemouth bass pulled from Biwako was an impressive 22 pounds (10 kg) hooked in July of 2009. The closest access point to Lake Biwa from Kyoto is the town of Otsu, only a 10-minute train ride from JR Kyoto Station. Recommended fishing spots near Otsu include the waterfront near the Prince Hotel, under the Omi Ohashi Bridge and near Zeze Castle Park. Kobayashi Fishing offers equipment and boat rentals and is close to Zeze Castle Park, but service in English may be limited. North of Otsu, Holiday Afternoon also provides customers with fishing equipment rentals, but no boat rentals are available.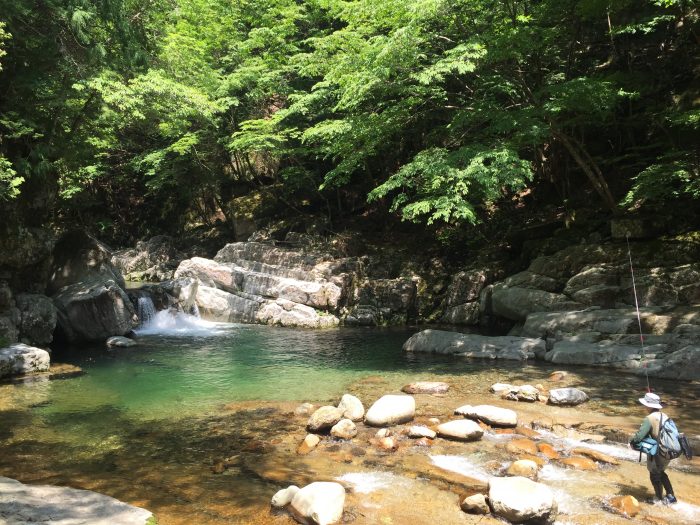 3. Kyoto
For a small-lake fishing option, the tranquil Sawano-ike in the hills of Kyoto provides a chance to catch small bluegill and some decent-sized bass. Lake Sawano, which is along the Kyoto hiking trail, is reachable in a car via a small single-track service road. The lake was originally used as an irrigation reservoir for the Sagano district in Kyoto.
4. Wakayama
Wakayama waters are a prime option for those hungry for saltwater fishing action, and charters are available from both Shirahama and Tanabe, as well as many other ports along the eastern seaboard. Charters are offered on a half-day or full-day basis and visitwakayama.jp recommends making reservations for weekend and holiday periods. Sea Bream as large as 70 cm and many other types of fish are commonly caught on these charters. The Wakayama coast is popular for shore fishing for those who want to keep boots on dry land.
5. Gifu
A stone's throw from Kansai in Gifu Prefecture is home to a quality river-fishing scene. Tenkara fishing – a style of fishing developed around 200 years ago in Japan's mountain rivers and streams – features a very long fishing rod and does not use a reel. The rod, line, and fly are the staples of this fishing system. It is the preferred method of river fishing in various parts of Japan. Tenkara fishing, which is most similar to Western fly fishing, as well as other methods of river fishing in Gifu, require a permit fee of approximately ¥1,500 per day for each angler. Trout and King Fishing Tours is an English guide service that operates in Gifu hosting tours starting from ¥60,000 aimed at catching a variety of trout species.
The ayu fishing on Nagara River one of the top fishing experiences in the area. There are a couple of interesting fishing methods employed to catch the ayu. One is by fly fishing using a fishing trap and a process called ayu-no-tomozuri. This is a process where an ayu decoy fish swims amongst other ayu and triggers their territorial behaviors, they then attack the live decoy, before fisherman can catch them.
Another is the cormorant fishing method where cormorant birds are trained to catch fish via a technique that employs the birds, boats, and fire in unison to catch ayu during the night.
The Nagara River boasts some of the clearest waters in the country, allowing for a well-established cormorant fishing culture. Essentially, master fishermen tie ropes around the bird's body and a ring around its neck to prevents the bird from swallowing the fish. When the bird has caught up to six fish in its mouth, they are pulled back to the boat where the fish are retrieved. The fire on the bow of the boat helps attract fish. This fishing process can be observed throughout the summer months, and there is a large tourist draw to Nagara to see cormorant fishing up close.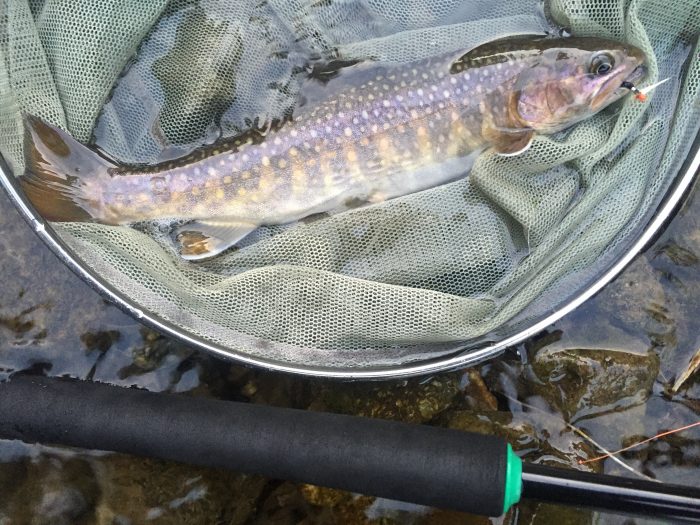 ---
Fishing permits and licenses
There is no requirement for a recreational fishing license in Japan, but some rivers, stocked ponds, and other popular fishing holes issue permits to fish in these areas. They are usually ¥1,000 or less, and you will be notified should you be required to obtain a permit in these areas. If you are unsure, ask at a local fishing shop.