Feature
Fix up, look sharp in the city
Getting a bike for the daily commute is easy, but what you'd really prefer is something with a bit more style, and speed. Ever thought about rehoming a fixed gear bike?
City messengers dart between lanes, leaving cars – and you – in their rear mirrors. How do they move so quickly? It's probably not their legs, but the bike that's doing the hard work, as many of them are riding adapted fixed gear bikes.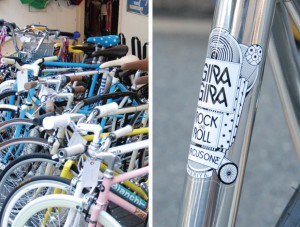 Fixed gear bikes are better known as track bicycles, and as that name suggests, they first started out in the velodrome as racing bikes. The two basic features that define a track bicycle are a fixed rear sprocket, which has no ratcheting mechanism, and a complete lack of mechanical brakes.
The lack of a ratcheting sprocket means that your legs are always moving. You cannot 'coast' on a fixed gear bike. This feeling is said to connect the rider to the bike and the road, in a way that normal bikes cannot. There are also many tricks which are possible to perform only on a bike with a fixed gear, such as riding backwards.
But let's focus on the brakes. Professional track cyclists, like the Japanese keirin riders, are the main consumers for track bikes as they have no need to ever stop, or slow down during a race. No brakes is great for the track, but way too dangerous for the street, so when track bikes began to gain popularity back in 2007, brake laws were speedily introduced.
Osaka-based Gira Gira Chariya started offering this specialist service, and works closely with Kansai-based parts maker, Yoshigai to provide quality parts. The shop has a strong focus on Japanese-made products, including handmade frames from local craftsmen, including the internationally renowned Nagasawa and Nakagawa (see p.14).
Rene Spudvilas from Gira Gira Chariya said: "While most shops have long been turning to Taiwanese and Chinese products, we have tried to keep a 'select shop' mentality, and stocked high quality products which we like; products which we believe in. Many of these products are actually from Kansai."
Converting a track bike into an everyday bike is no simple job. Rene explains: "Track bikes have very aggressive geometry, which can be tiresome to ride for the average commuter. The lack of brakes or gears, the low drop handlebar, firm saddle, and thin tires makes for a harsh ride."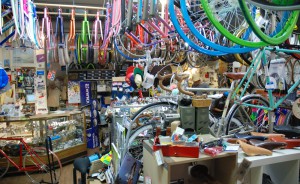 Rising mountain bike style handlebars, thicker touring or road bike tires, softer road bike saddles, and clamp-on brake sets are all commonly used to make a pure track bike much more usable. This kind of customization is Gira Gira's specialty.
"When properly set up, a track bike can be devastatingly quick in the city," adds Rene. "Shop mechanics can alter the bike according to the customers needs, including adding extras like a shopping basket."
Once the bike no longer has a fixed gear it becomes a 'Single speed', basically a faster, and more stylish version of a mamachari bike. This means that while it has the quality, speed and looks similar to a pure track bike, it is very easy to ride, and comfortable to live with for commuting.
So if you want to put more speed and style in your daily commute, maybe you should look to the tracks for inspiration.
[box]Gira Gira Chariya
Address: 1F-1-20-20 Minami Horie, Nishiku, Osaka, 550-0015. Tel: (06) 6534 2539 Website: www.giragirachariya.com Online store: www.tracksupermarket.com[/box]