Feature
Sipping Sake on the Nada Brewery Trail
Springtime, cherry blossoms, and sake – three perfect reasons to tour Kobe's Nada district, the world's top sake-producing region.
Nihonshu (sake, or rice wine to some) is making a comeback. After years of playing second fiddle to shochu, nihonshu is reclaiming its crown as the king of Japanese beverages. Now more than ever, there is a better range of quality sake available throughout Japan, and one third of all sake produced in the country is brewed right in our backyard in Nada, Kobe.
Kansai has always been one of the hubs of sake production but by the Edo period, Nada had firmly staked its place as the center of it all. Integral to this was the discovery of Nada's miyamizu – the mineral-rich, hallowed water that flows from Rokko Mountain via six rivers to underground wells. It provides the ideal water for quick, robust fermentation; perfect for sake brewing. As well as the quality of the local water, Nada's seaside location provided excellent access to ports, allowing the breweries to ship their sake quickly and efficiently to Edo (Tokyo) and its flourishing population. Nada's reputation was firmly established and the region saw the rise of what would become some of the biggest sake breweries in the country. These days Nada still holds its place as Japan's largest sake producer, and while there are many other equally interesting sake regions in the country, few are as accessible with such well-serviced cellar doors as Nada.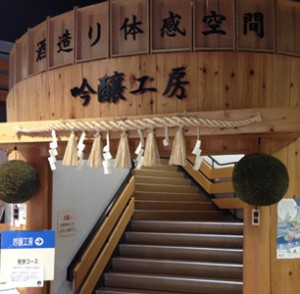 For a simple day trip, start at Hanshin Uozaki Station. From here it's a mere seven-minute walk to Hamafukutsuru Ginjo Kobo. In terms of production, Hamafukutsuru is actually quite small but the cellar door is well setup with lots of sake-related snacks and condiments, including their softserve ice cream made with daiginjo sake. Head upstairs for bilingual audio and video explanations of the brewing process as well as peek through the windows into the brewery itself to see some of the action. Free tastings of most of their range (including fruit infused sake such as yuzu and honey and lemon) are available, but if you'd like to settle in you can sidle up to the bar and try a flight of three of their premium sake for ¥600 (add some nibbles for ¥300). Of note is their Limousin sake liqueur aged in French oak brandy barrels. Rich and sweet, the vanillin aromas from the oak provide an interesting contrast to familiar sake flavors.
From there, a 200-meter stroll will get you to Sakura Masamune, the aforementioned discoverer of Nada's famed miyamizu. There aren't a lot of places to eat in Nada so this is a good spot to grab a quick meal either in their cafe, or upstairs where you can treat yourself to some serious crab cuisine. There is even a bar, Sanbaiya, open from 5pm if you just want to have a few drinks. Also upstairs is a small museum of old brewing tools and aged bottles. While up there, have a commemorative bottle made with your photo on the label for ¥260 (plus cost of sake)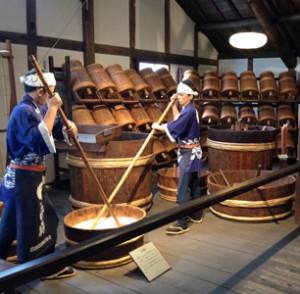 A further five-minute walk will bring you to Kiku Masamune. Founded in 1659, Kiku Masamune is as rich in history as it is in producing fine sake. The rather cute gardens at the entrance lead into a very detailed museum, again complete with multilingual video explanations. On the second floor is a sealed room containing sake-related paraphernalia, tools, and serving apparatuses that have been declared National Heritage artefacts. There is sake tasting downstairs in the gift shop. Keep an eye out for their kimoto range. Kimoto is the traditional, labour-intensive style of brewing. The method brings out a bolder, fullbodied character which is in line with their goal of producing food-friendly, dry sake.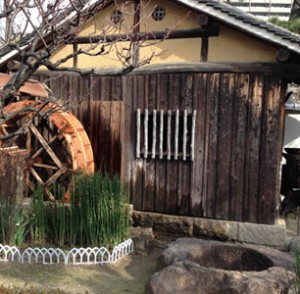 Save the biggest for last. Hakutsuru is the largest sake brand in the country. Their TV commercials are well-known and their sake ubiquitous in convenience stores and supermarkets throughout Japan. But while they do make plenty of cheap (read: consumer-friendly) sake styles, they also produce premium sake of exceptional quality. A visit to the Hakutsuru brewery provides possibly the most in-depth analysis and explanation of sake brewing history and production. The eerily life-like mannequins scattered throughout the museum help to illustrate the different stages of sake production, and the English audio explanations at each station are very thorough. Access to the actual brewery is generally not provided except for the first week of October when they throw the doors open for World Sake Day (October 1st). Again, sake tasting is available as well as samples of many types of sake-related cosmetics. Rice powder, nuka, is a popular ingredient in many cosmetics such as moisturizers and creams for soft skin. If you ever catch a glimpse of the hands of a sake brewer, you'll understand why they appear so soft and smooth.
Once you've had your fill, it's just another 10-minute walk back up to Sumiyoshi Station. The local council has kindly scattered bilingual maps of the Nada sake brewery area around the town and at the six stations that cover the area so it's difficult to get lost. Just remember to leave the car at home!