Featured
Centuries of sake
Tasting the modern-day treasures of a 400-year-old sake brewery.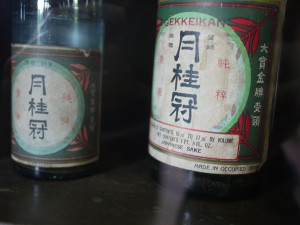 Rice is so central to Japan's socio-cultural history that it's no wonder someone eventually figured out that through a process of fermentation rice could be turned into alcohol. And thus sake, or nihonshu, was born. As well as a hangover.
The origin of sake is, unlike the drink, unclear. While the technology used for brewing sake has changed greatly over time, the basic method still stands: adding spring water to polished rice and allowing koji(a magical mold) and yeast to ferment until sake is produced.
At the Gekkeikan Brewery in Fushimi, a short journey south of Kyoto city, they have been making sake for nearly four centuries. Because of the suitability of Fushimi's spring water and its proximity to waterways, along which rice and sake could be transported to and from Osaka and Kyoto, Fushimi has long been associated with sake breweries.
Disembarking at any of the JR, Keihan or Kintestu stations in Fushimi, it's hard to imagine that you are in the environs of a town steeped in centuries of sake tradition. However, once you leave the busy shopping arcade and claustropho-bic streets you'll find that, thanks to the Fushimi breweries,much of 'old Japan' has been preserved, as much for tourists as for the sake.
Gekkeikan is just one of seventeen surviving breweries in Fushimi, albeit the biggest one. Its presence is marked all over town by smokestacks and beautiful wooden buildings used for storing, washing, polishing and fermenting rice in olden days. The historic buildings have been preserved for posterity while sake production has shifted to a modern brewery nearby.
Gekkiekan has come a long way since it was established by the Okura clan. Still a family-run business (the 14th Okura descendent leads the business today), it employs more than 600 people between its brewery operations in Fushimi and Folsom, America. Chances are if you drank sake in America, more than likely it was a Gekkeikan sake.
For many people sake is still a bit of mystery. Do you drink it warm or chilled? Does sake get better with age like fine wine or whiskey? And, is sake a type of (rice) wine as many
people assume? Looking for answers, I spoke with Gekkeikan's Yoshida Miwa, who is an advisor for the brewery. His answers: either, no and no. In particular, I think the rice/wine confusion originates from the words we use when we talk about sake. Read on.
The best place to start when visit-ing Gekkeikan is the Okura brewery museum. Housed in an old brewery building, it's a short but satisfactory tour through 370 years of sake production and most of the information is in both English and Japanese.
Throughout its history, Gekkeikan has notched up quite a few firsts: in 1907 the company became the first purveyor of sake to the Imperial family, and in 1961 Gekkeikan developed the first all-season sake plant in Japan. This was short of revolutionary in the industry; for centuries sake production was confined to the winter months, which aided fermentation.
However, as Miwa from Gekkeikan pointed out, when the brewery was established in 1637 all-season sake pro-duction was in operation, if not widely done so because of the summer heat and humidity. It was not until about 40 years later during the Edo period that the shoguns decreed a law that sake could only be produced in winter in an effort to preserve rive yields as the population expanded. This practice lasted for centuries.
Today, with its year-round sake production, Gekkeikan brews a vast line-up of sake. According to Miwa, most of the rice used in Gekkeikan sakes is sourced in Kyoto. But for the more distinguished sakes (ginjo and daiginjosake), Gekkeikan uses Nishikirice, the royalty of sake rice, harvested in Hyogo.
Gekkeikan's sakes run the full range; from cheap 'one-cup' sakes to gold medal winners, and to sample them all you'd need to take a week off (followed by another week to recover). The most popular brand is Tsuki (月), distin-guished by its bright orange carton. Miwa describes 'Tsuki' as the "most versatile of sakes, you can drink it warmed or on ice and it suits just about any food."
However, we started near the top end of the line-up with a ginjoshu, which, as Miwa explained, has 40 per cent of the rice grain polished away prior to fermentation. (Generally speaking the more polished the grainthe more delicate and refined the sake.) It's particularly sweet and more suitable as a dessert drink than as an accompaniment for a main dish. One of its novelty features is the glass cup that comes with the bottle. Modeled like a billycan it has its own little stand, hence its been given the name 'Retro Bottle'.
If sweet sake is not to your pal-ate another popular Gekkeikan sake is Tama no Izumi, the 'Jewel of the Fountain'. Similar to a ginjo sake, it is in fact a daiginjo, an extension of the ginjobrewed to a higher grade.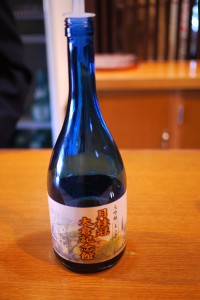 The Tama no Izumileans further towards dry than sweet, or in Japanese parlance karakuchi. With its more refined taste it is more suited to sashimi or tempura.
One of Miwa's recommendations is the Nouvelle Laurel sake, a mid-priced award winning junmai(no added alcohol and at least 30% polishing) sake. Characterised by a light taste and sophisticated bouquet, it can be drunk chilled or warm. "In fact you'll never grow tired of the taste," Miwa says.
So what does the future hold for Gekkeikan? "To keep producing sake that people enjoy," Miwa says. While sake is the nobility of Japanese alcohol, Miwa notes that the market is 'flooded' with competitors, of which chuhai is particularly strong.
However, with its history of research, investment and innovation expect Gekkeikan to keep brewing all man-ners of sake from its base in Fushimi for centuries to come.
[box]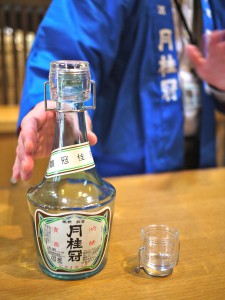 Fushimi – sake city
Getting there
From Kyoto: 10 minutes by Kintetsu or JR train from Kyoto Station.
Take the Keihan from Sanjo Station.
From Osaka: 40 mins from Yodoyabashi Station by Keiha
Gekkeikan Okura Sake Museum
9:30am–4:30pm all year round (closed major holidays). Adults ¥300,
children (12-17) ¥100.
Phone: 075-623-2056
From April river cruises operate on the waterways in and around
Fushimi. Contact 075-623-1030 Fushimi Yume Kobo Jukko-ku Bune.
[/box]