Feature
Seeking Sophistication in Kobe's Kitano
It's international, quaint, sleek and stylish. With so much to discover, come on and kick up your heels in Kitano.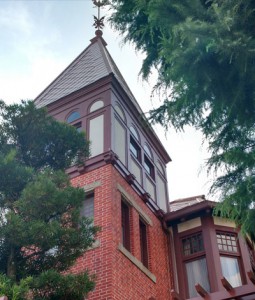 Set into the hillside where Kobe's streets begin to give way to the slopes of majestic Mount Maya, paying a visit to Kitano is a bit like suddenly skidding a few thousand miles west to Europe or east to America. Historically the home of international traders, attracted in the late nineteenth century to overseas business by the opening of Kobe Port, this refined area of the city proudly displays their remaining residences, many now converted to museums.
Boutiques, cafés and restaurants offering globally-inspired goods and cuisines, plus a well-established reputation for jazz, add to the international flavor emanating from the area and make Kitano a target for Japanese and overseas tourists alike.
To reach Kitano, the clue is in the name – you need to head north. Just a few minutes after leaving Sannomiya you'll arrive at the foot of Kitanozaka Avenue, Kitano's leafy main street that stretches steeply towards the mountain. If you want to see Kitano's historical upper reaches, plan to attempt the climb while you've still got plenty of energy; alternatively, hop on the bottlegreen Kobe City Loop bus. On the way up you'll pass pale, attractive ivydraped buildings and well-manicured stone flower beds that give the street a splash of colour.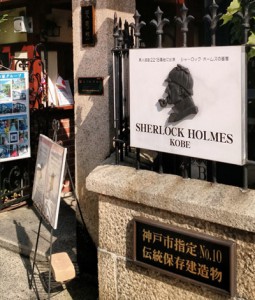 At the top of the avenue, wind your way through the narrow streets to Kitano- cho Plaza, an open, stepped arena where statues of jazz musicians preside, immortalized during their instrumental solos. A French-style plaque announces a formal 'amitié' between Kitano and Paris' Montmartre, and it's true that with the Europeanesque buildings, the sun shining and an artist on the steps with his easel, there's more than a fleeting connection.
Here on the hilltop you've entered the land of the Ijinkan, the 20 or so multi-coloured international residences, regrettably reduced in number by the 1995 Hanshin Earthquake. To see inside, either pay a few hundred yen per Ijinkan or buy entry to eight at once for ¥3,000.
Each contains its own morsel of history. English House, complete with London 'Baker Street' tube sign and Sherlock Holmes museum, was originally occupied by an English doctor. Weathercock Mansion, the only brick Ijinkan, built by German trader Godfried Thomas, overlooks the plaza with its iconic weathervane, boasting an interior that fuses traditional German style with Art Nouveau.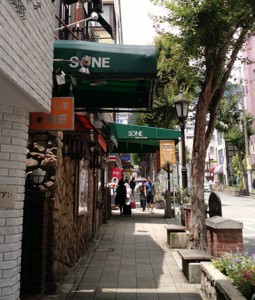 It's not only Kitano's residences that enhance the international ambience. At the tourist office in Kitano-cho Plaza, the helpful staff point out the diversity of religious buildings in the area; in addition to Shinto shrines, Kitano hosts a mosque, a synagogue, a Jain temple and a number of churches, including Baptist and Catholic.
While most are in regular use by Kitano's international residents, some of the churches are nothing more than replicas, used to conduct marriage ceremonies for Japanese couples. Kitano's popularity and prominence as a wedding location forms a significant part of the area's character. Large, glamorous hotels and elegant venues such as Kitano Garden and The Seasons Landmark give off an air of opulence, and at the weekend you're likely to encounter not just one but several wedding parties as you stroll around the neighborhood.
Either out of politeness or necessity, happy couples seem very tolerant of bystanders watching as they get showered in confetti. Despite the recent steady decline of the Japanese marriage rate, by all appearances in Kitano love is blooming and the wedding business is booming.
Wander down from the hilltop plaza and you'll pass any number of chic little boutiques selling gifts, jewellery, and other bits and pieces that make them highly browsable. Cute cafés abound, or you can stop off and sample some creamy matcha ice cream topped with azuki beans from one of Kobe Rokko Farm's two Kitano outlets.
Everything from well-heeled hair salons to the ever-present konbini blends in quite intentionally with the area's muted, classy tones; for novelty's sake, check out a 7-11 decked in grey and black rather than the habitual red and green. Even chain coffee shops like Tully's fit in well, occupying existing historic buildings; the Kitano Starbucks is well camouflaged inside a fetching blue-and-white, two-storey wooden house, reconstructed using the original materials following the 1995 earthquake. Your Frappuccino will taste exactly the same, of course.
On your way back down, pause for a while on the terrace of Bistrot Café de Paris with a cold beer and a sweet from their fabled dessert tray. With its red-and-white chequered tablecloths and Pernod umbrellas, this unmistakably French locale provides the perfect vantage point for soaking up the sophisticated Kitano atmosphere.
"Kobe is all about style," says Emanuel Azzouz, the owner, referring to the stream of immaculately dressed passers-by who parade in front of his restaurant every day. Azzouz is part of the close-knit, friendly community of international residents in Kitano. The area's profusion of restaurants serving global cuisine reflects the diverse origins of its inhabitants; as well as French food you can choose from Italian, Spanish, Turkish, Brazilian, Indian, Thai, and more. Lotus, with its display of colourful woven bags on sale outside, serves Vietnamese and Asian cuisine infused with fresh, zingy flavours – try Vietnamese spare ribs plus green papaya and prawn salad for an excellent dinner pairing.
Later on, how about a spot of jazz? Yet another jewel in its armory of hidden treasures, Kitano's long standing as the hub of Japanese jazz culture continues to keep visitors entertained. Every October the Kobe Jazz Street festival comes to the area, but you can see live jazz any night of the year in the area's handful of jazz venues, such as SONE, Ellie's, and Green Dolphin. Entry (usually paid on departure) ranges from around ¥600 to ¥2,000 per person, usually without food or drinks, but once inside you can enjoy live performances all evening. A relaxing way to round off your Kitano tour.