Feature
Sake Sensei's Brewery Adventures
Each issue we explore a different facet of the complex world of Japanese sake and accompany sake guru Rakudo Yoshida on a visit to one of Kansai's iconic breweries. Supported by: the Japan Sake Society
The same equally applies to sake, or nihonshu (lit. Japanese alcohol) as it is proudly referred to in Japan. Knock back a few ill-advised cups of rough sake after a night of boozing, and the chances are you may regret it the next day, making a mental note to steer clear—possibly for life. Yet go out of your way to try some premium sake, and you'll wonder what took you so long.
As with wine, sake is both fundamentally simple, yet uniquely complex. Where wine is produced from fermented grapes, sake is produced from the laborious process of fermenting rice. The subtle differences in the rice used, to what degree it has been polished, the purity of the water, and the length of the fermentation process—to name but a few variables—results in an astonishing variety of styles. From bright, fruity daiginjo varieties, sparkling nigori, and even aged sake (koshu), whose deep amber hue and complex whiskey-like depth will astonish you, there is an incredible array of tastes and styles to be discovered.
It can be enjoyed hot (atsukan) or cold (reishu) and paired with a wide range of foods, including Western cuisine. Knowing which sakes to pair with which food takes practice, as does deciphering the labels on the bottles. Without an expert to hand, though, you will be generally safe with a junmai (lit. pure rice) ginjo or jumnmai daiginjyo—both premium, smooth drinking, aromatic sakes that have been made without any distilled alcohol added.
At the end of the day, a lot of it comes down to personal preference. Our very own sake guru, Yoshida Sensei, recommends tasting as many varieties as you can to find the style that suits you best.
Head to a reputable sake bar to begin your pursuit of sake happiness, or take a tour at one of the larger breweries in Kyoto or Hyogo that are open to the public and offer free tastings, such as those along the Nada Brewery Trail in Kobe. Happy exploring.
---
Tsukino Katsura
Masuda Tokube is the 14th-generation Masuda to head his traditional family-run sake brewery in Fushimi, Kyoto. He sports a fabulous bushy moustache and speaks with great enthusiasm about the business that has been left in his care.
They started out as rice, sake, and soy-sauce merchants in 1675, before beginning to brew their own sake around 1870, during the Meiji Restoration sake-brewing reforms.
In the 1950s, Tokube's father discovered an Edo-era series of recipe books that detailed the lost art of ageing sake. He began storing away blends of the finest sakes together and preserving in specially designed 20-liter ceramic jars. A 10-year matured bottle would have cost around ¥10,000 in the 1960s. Fast forward to today, and a bottle of 50-year-old koshu sake—the oldest if its kind in existence in Japan—will set you back an eye-watering ¥3 million.
There have always been innovators at Tsukino Katsura. They shot to fame in 1964, after creating a new style of sake—a roughly filtered, milky-white nigori sake, bottled during the fermentation stage to create the first sparkling sake in Japan. Now, Tokube is getting in on the act too, taking the inspired decision to hire renowned graphic designer Issei Kitagawa of Graph to rebrand a few years back. To position themselves more favorably in the booming overseas market, he wanted to create an eye-catching logo mark that could be used in place of confusing traditional labels. Today, many of their best selling lines all carry the striking design—a modern reworking of their centuries-old traditional seal.
• Masuda Tokubee Shoten Co., Ltd
• Kyoto, Fushimi.
• tsukinokatsura.co.jp
---
Sensei's Selection
1. Hawayuu (How are you)
Highly aromatic, with great depth, yet with a contrasting katana-like sharpness to it—an indulgence unmatched. Goes exceptionally well with funa-zushi (fermented sushi).

2. Iwai-Mai Jyunmai Daiginjo Nigorizake
A pleasantly refreshing sensation delights the palate the moment this sparkling rice wine is savored. The elegant taste marries well with pork cutlet.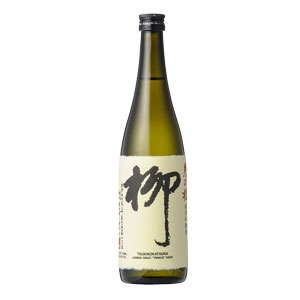 3. Junmai Ginjo "Yanagi"
A deep, tender flavor with a scent distinctive of junmai-shu ("pure rice sake"), it can be savored with any type of cuisine, but goes particularly well with traditional pickles.

4. Kasegi Gashira
A soft yet refreshing sourness that goes extremely well with cheese, prosciutto, and cantaloupe melon. Perfect as an aperitif or enjoyed in a sophisticated ambiance.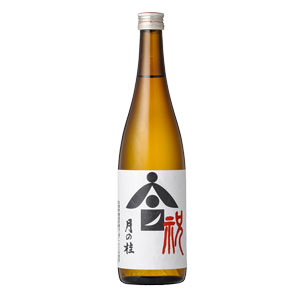 5. Iwai 80%
Packed with powerful rice overtones, as if one were savoring the rice itself, this is reminiscent of nihonshu in its truest form. Recommended well-cooled to accompany a good sizzling steak.
Sake is as complicated to the uninitiated as wine. Drink a glass of cheap acidic supermarket red and you may be put off for life. But sample a quality vintage and the likelihood is you will be hooked, beginning your own exploration of the incredible variety of wines produced the world over.