Venture into the fields of Uji to experience the very best of Japanese green tea.

"Without tea, Uji would not exist." These are the passionate words of Shogo Nakamura, Executive Director of the flagship Nakamura Tokichi tea house in the center of Uji city, just south of Kyoto. And he's right – a short walk around this unassuming locale is enough to reveal that green tea is indeed the lifeblood that pulses through its veins, from the charming tea houses overlooking the river to the abundance of tea shops lining its narrow streets.

Uji's tea history dates back around 800 years, and the city is a key producer of three main varieties of Japanese green tea: sencha, which is an everyday green tea; tencha, the tea leaves which are ground up and used to make matcha powdered tea; and gyokuro, the highest grade of green tea in Japan. Both tencha and gyokuro plants are shaded from the sun for a few weeks before harvesting, which reduces the tannin content of the leaves and results in a sweeter, less astringent taste, with distinctive umami notes. The taste is worlds apart from that of your average supermarket green tea bags.

The green tea cultivated in Uji is widely regarded as being the best in the country. According to Nakamura, the reasons for this high quality can be broadly divided into two: the area's natural climate and its political climate.

"In terms of natural climate," he elaborates over a warm cup of his tea houses's own blend of sencha, "the hot and cold seasons are very clearly separated. From March to April is when the new tea leaves start to sprout, and during that time it's not too hot and not too cold here." This Goldilocks temperature window combines with soil that's perfect for growing tea plants, plus just the right amount of sunlight, to create the superior class of green tea cultivated in Uji.

But Mother Nature can't take all the credit. Another big factor in Uji's superlative tea game is the city's close proximity to Kyoto, which served as Japan's capital from 794 until 1868. "The needs of the government officials and their ability to provide support were very strong," Nakamura explains. It was this coming together of environmental and social factors that really elevated Uji's position and established it as the epicenter of high-grade green tea production in Japan.

In recent years, Uji's reputation as a mecca for green tea lovers has spread overseas, and the town has opened itself up to tourists eager for a taste. Tea houses such as Nakamura Tokichi are perfect places to start, whether you're a green tea aficionado or a complete novice. Their resident tea masters will talk you through the process of tea cultivation, explain exactly what makes Uji's tea so special, and then show you how to brew the perfect cup.

For a more in-depth experience, it's also possible to take part in a traditional Japanese tea ceremony at most tea houses (advanced reservations may be required). Here, you can learn more about tea etiquette, and even have a go at grinding your own matcha from tencha leaves.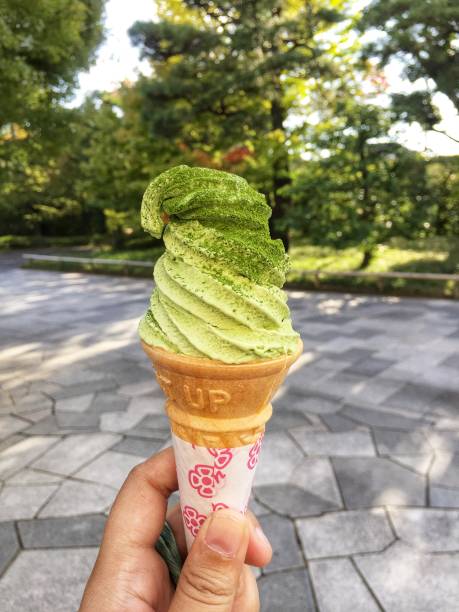 Interspersed with the tea houses you'll also find numerous cafés and restaurants that have wholeheartedly incorporated tea into their menus. You can try green tea soba noodles, green tea-flavoured ice cream, and traditional Japanese sweets such as warabimochi (a chewy, jelly-like confection made from bracken starch) coated in matcha powder.

Tea may be Uji's main draw, yet it's far from being the city's only attraction. At the end of Omotesando lies Byodoin Temple, a stunningly beautiful UNESCO World Heritage Site. The temple's most impressive feature is the Phoenix Hall, which stands elegantly on an island in the center of a vast pond. Named for the two phoenix statues on its roof – and the fact that its structure is reminiscent of a bird taking flight – this intricate building was chosen to grace the back of the ¥10 coin, making Byodoin one of the country's most recognizable temples and a key stop on any Uji itinerary.

Fans of Japanese literature may be familiar with Uji for an entirely different reason, however. The city is the setting for the later chapters of the classic novel The Tale of Genji, written in the 11th century by Murasaki Shikibu, and there is a museum dedicated to the story on the other side of the river from Byodoin. Not far from the museum stands Uji Shrine and Ujigami Jinja, Byodoin's guardian shrine. The latter is believed to be the oldest standing shrine in the country, dating back to at least the year 1060.

Although Byodoin is by far Uji's most famous temple, there are a number of other temples worth visiting if you have the time. These include Manpukuji, characterized by its Chinese style of architecture, and Mimurotoji, which is also known as the 'flower temple' thanks to its vast and verdant gardens.

Once you've toured the temples and surveyed the tea houses to learn about and try the different varieties of Uji's tea for yourself, head to the bustling Omotesando shopping lane to procure some to take home with you. The multitude of tea shops here also sell tea sets, matcha whisks and all sorts of other tea paraphernalia to help you recreate an authentic tea house atmosphere at home.

So with all this choice, how do you decide which tea you should go for? "The ones that are handpicked, the quality of these is incomparable," recommends Nakamura. "And May is the season for shincha, the new tea leaves, which you can only enjoy to the fullest at this time of year."

For people who are new to green tea, however, he suggests that "instead of just picking one and focusing on that, drink many different kinds and compare them. They all have their different qualities, so the best way is to increase your exposure to tea and then from there you can find your own flavor and what you like best."

And there really is no better place to do so than in Uji.
How to brew the perfect cup of Uji gyokuro

There's an art to making the perfect cup of tea, and this is especially true for high-grade teas like gyokuro. Here are Nakamura Tokichi's recommendations for getting the best out of Uji's finest quality tea:

Pour boiling water into a small teapot and two cups to warm them, then empty out the water.
Put 8–10g of tea leaves into the teapot.
Slowly pour in 80–100ml of water at 60℃. Brewing the tea at a lower temperature brings out the sweetness and umami flavour, with less bitterness and astringency.
Allow the tea to brew for 120–150 seconds, without shaking the teapot.
Pour the tea into the cups alternately, little by little, until the very last drop. This distributes the tea evenly between the two.
For subsequent brews, the waiting time can be reduced.
Tea is best stored in an airtight container, in a cool, dark place.

Want to learn more about Japanese tea?

Kyoto Obubu Tea Farm, in the small town of Wazuka, hosts a two-week intensive Tea Master course where you can get hands-on experience of picking, processing and preparing different varieties of Japanese tea.

And if you're really keen, they also offer a three-month internship program, where you can fully immerse yourself in tea farming and production all the way from leaf to cup.

Find out more at obubutea.com

Access
Uji has two main train stations: JR Uji and Keihan Uji. From Kyoto Station, you can take the JR Nara line directly to Uji in approximately 20 minutes. From JR Nara station, it takes around 30 minutes.
Find It…

Nakamura Tokichi Hours: 10am–6pm; tokichi.jp/english • Byodoin Temple Hours: 8:30am–5:30pm; Admission: ¥600; byodoin.or.jp/en • Tale of Genji Museum Hours: 9am–5pm; Closed Mondays; Admission: ¥500 • Ujigami and Uji Shrines Hours: 9am–4:30pm; Free admission • Manpukuji Temple Hours: 9am–5pm; Admission: ¥500; obakusan.or.jp/en • Mimurotoji Temple Hours: 8:30am–4:30pm; Admission: ¥500; mimurotoji.com