Travel
Hike Into Kumano's Hot Spring Haven
Seek sky-scraping forests, simmering springs, and spiritual rejuvenation along the ancient Kumano Kodo.
Once you've set foot on a Kumano Kodo trail, you know you've become privy to a gem. Treading a self-guided path is a truly rewarding way to experience this spiritual region of Japan located in the southern reaches of Wakayama's mountain-clad Kii Peninsula, about 100 km south of Osaka.
The Kumano Kodo is a series of ancient pilgrimage routes that snake across Japan's largest peninsula endowed with majestic scenery, remote hot springs, hearty countryside hospitality, and rich pilgrimage traditions. Its paths have been revered for more than a thousand years.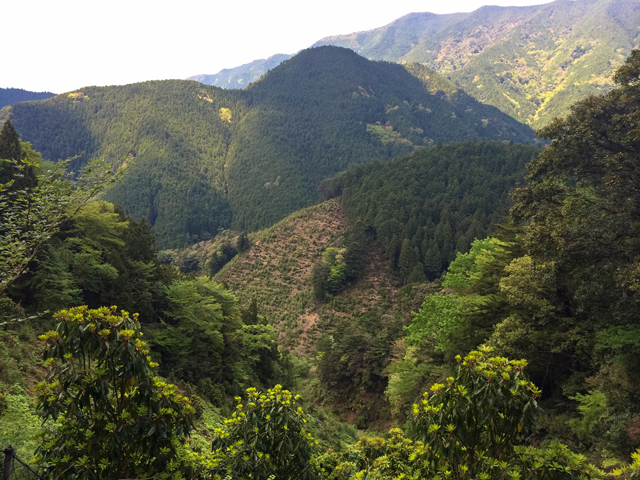 The routes revolve around the Kumano Sanzan (the Three Grand Shrines of Kumano): Kumano Hongu Taisha, Kumano Hayatama Taisha, and Kumano Nachi Taisha. The area is one of only two pilgrimages in the world registered as a UNESCO World Heritage Site (Spain's Way of St. James is the other), its status granted in 2004.
Since prehistoric times, it has been worshiped as a place inhabited by deities and supernatural beings. Its famed pilgrimage routes have a long history of use by people of different classes and faiths including Shintoism, Buddhism, and Shugendo Mountain Asceticism.
Nowadays, nature lovers join the devoted along the ancient pilgrim paths, however they remain quite off the map for most visitors to Japan and even to most Japanese people. Even in the peak seasons of autumn and spring, it is possible to hike for a whole day and pass less than five other people on the trail.
The setup of Kumano Kodo makes it possible even for the time poor and the exercise-averse to experience the exquisite beauty and unique atmosphere of the region and its sacred sites. An itinerary of any amount of days can be arranged, can start and end at many different places, and hiking can be supplemented by bus travel to save time and leg power.
For those new to the area and prone to stiff calves after a day's hike, the Nakahechi trail is a good one to start with. Most of this path is very manageable for travelers of average fitness and who have not done much recent hiking training. It is a good idea, however, to get familiar with the bus schedules in case of an unexpected busted ankle or if one day dusk is approaching and the planned destination is not in sight.
For travelers with six days to spare, here is a step-by-step guide to getting a good taste of the Nakahechi trail.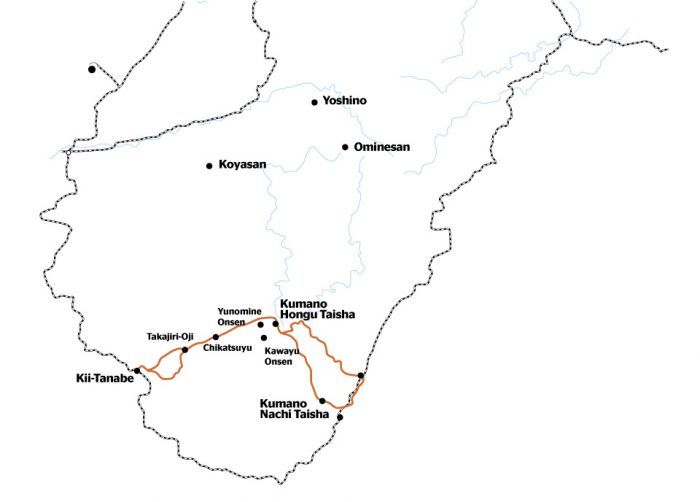 Day 1 – Takijiri-oji to Takahara
Distance to cover: ~4 km
Difficulty: Hard because of steep inclines
Time to Allow: ~3 hours
The first-day itinerary allows for travel from a major center, such as Osaka, to JR Kii-Tanabe Stn and then Takijiri-oji – the village that marks the entrance of the Kumano area. This is a popular starting point for the Nakahechi trail. The Takahara settlement is only a 3–4 km walk from the trailhead in Takijiri, however this short hike from Takijiri to Takahara is no small feat for even an experienced hiker. It will take a couple of hours because of the steepness so it is recommended that you arrive at Takijiri-oji around midday to begin the ascent to Takahara. Prepare for magnificent views when you arrive at Takahara where the mountains appear to be rising out of the mist. It won't take long for you to realize that the tight calves and burning thighs are all going to be worth it!
Accommodation Option:
Kirinosato Lodge, Takahara
Email: kiri-takahara@mb.aikis.or.jp
Tel: 0739-641-900
Twin Room: ¥10,000 per person (includes dinner & breakfast – sumptuous meals made from locally sourced, seasonal ingredients)
Web: kirinosato-takahara.com/english.html
Check in: From 3pm • Ofuro (Japanese-style bath): 11am–8pm
Day 2 – To Chikatsuyu/Tsugizakura
Distance to cover: ~14 km/18 km
Difficulty: Easy – no real steep inclines, path is clearly marked and easy to follow
Time to Allow: ~6–7 hours
The second day on the Nakahechi trail is a nice, easy one, although very remote – you may not see many other people while walking through the beautiful countryside and even while walking through the tiny settlements along the way. Takijiri-oji to Chikatsuyu-oji is around a 14 km hike, but some hikers may want to walk the extra 4 km to Tsugizakura-oji on Day 2 to make the lengthy Day 3 hike a little shorter. Your decision may be made for you according to what accommodation is available when you make your booking. You will first set your eyes on the Chikatsuyu-oji settlement and the Hiki River as you hike down into the basin from the surrounding mountains. It is truly the quaintest of little villages with only a small grocery store, a post office, and some minshuku (guesthouses). The surrounding mountain and river scenery is absolutely divine.
Accommodation Option:
Minshuku Chikatsuyu
Tel: 0739-650-617
Twin Room: ¥10,300 per person
(All delicious, filling, and wholesome meals included. Be sure to ask for a packed lunch to take with you on your long hike toward Hongu Taisha.)
Tip: Soak your tired legs in the Hisui-no-yu onsen right next to the minshuku
Day 3 – To Kumano Hongu Taisha
Distance to cover: ~24 km from Chikatsuyu-oji/~20 km from Tsugizakura-oji
Difficulty: Moderately hard because of the long distance and lots of going up and down
Time to Allow: ~9–10 hours
This is the longest day of hiking in this itinerary so it's best to have breakfast and leave your minshuku as soon as possible after sunrise to ensure that you make it to Kumano Hongu Taisha before dusk. Between Tsugizakura-oji and Hongu Taisha there are many ups and downs on the trail before finally arriving at the shrine, but the cool, dense forests, mini waterfalls, and picturesque vistas are the perfect distractions. Hongu Taisha is the largest of the three grand shrines of Kumano. The main hall of the shrine, which dates back to the 7th century, is dedicated to the deity of trees. The township of Hongu Taisha is much larger than anything you will have seen on the previous two days of hiking, and there are several options for food and accommodations in this main hub.
Accommodation Option:
Blue Sky Guesthouse
Tel: 0735-420-800
Email: info@kumano-guesthouse.com
Twin Room: ¥6,000 per person per night including breakfast (dinner not served)
Web: kumano-guesthouse.com/eng.html
Check in: From 3pm
Day 4 – To Kawayu (River Onsen) then Yunomine Onsen
Distance to walk: 5 km
Difficulty: Easy
Time to Allow: ~2 hours
Hongu Taisha, Kawayu, and Yunomine can be done in any order according to how much time you have to enjoy the area. For ancient pilgrims, Yunomine was used for hot water ablution rites before going to pray at Hongu Taisha, but for time-poor hikers with aching pins, it might be nice to spend a day soaking in hot springs after the long hike to Hongu Taisha. Hongu Taisha to Kawayu is around a 5 km hike, but if your legs are too sore from the 20 plus kilometers you did the day before, there are regular enough busses running between these two towns.
Kawayu is one of the most picturesque places in this region and a stunning place to have basically all to yourself on any given afternoon. Cool off in the crystal-clear waters or soak your aching muscles in hot water by digging your own personal onsen in the very same river! Its simmering springs run parallel with the Oto River so just pick a spot, remove some rocks, grab a shovel and dig, and you'll soon feel the warm water bubbling through.
The tiny but delightful village of Yunomine is just a few kilometers away from Kawayu but you will only have time to do one small hike on this day if you want to enjoy the river onsen, so catching a bus to Yunomine in the late afternoon is your best bet. Yunomine onsen is known by some as Japan's spiritual hot spring. It is the home of Tsuboyu, the only UNESCO World Heritage listed onsen, which is said to have strong healing properties. After you've reserved your 30-min spot at the tiny wooden hut nearby, you can go for your private soaking session in the tiny, rocky pit with scalding water of an almost indescribable pastel-turquoise color. After your time is up, there is a 92-degree hot spring where you can sit and boil eggs and vegetables for dinner.
Accommodation Option:
Yoshinoya Ryokan
Tel: 0735-420-101
Twin Room: ~¥6,950 per person (no meals); ~¥11,100 per person (includes dinner and breakfast)
Check in: From 3pm • Indoor/outdoor onsen: 3pm–9am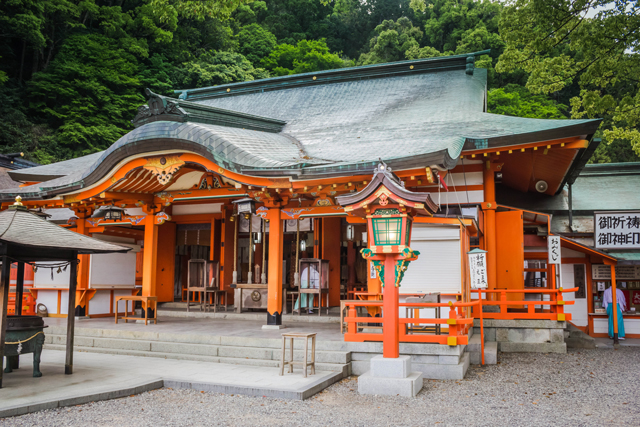 Day 5 – To Nachi Taisha
The village of Nachi-katsuura is where the majestic Nachi Taisha (shrine) and Nachi-no-taki (waterfall) can be found. In this six-day itinerary, there is not enough time to hike all the way to Nachi Taisha (around 55 km from the Hongu Taisha area), but if you have a few extra days (and the extra fitness – it is quite a bit more strenuous) then it is absolutely worth it. Kumano Kodo has a decent transportation network that allows hikers to travel to various points along the route by bus or train, so a bus from Yunomine to Nachi-katsuura is a great option. As well as visiting the truly majestic and breathtaking Nachi shrine and waterfall, don't forget to allow some time to meander down Diamon-zaka, an impressive, 600-meter-long, cobble-stone staircase with cedar trees reaching to the sky on either side.
Accommodation Option:
Mitaki Sanso
Tel: 0735-550-745
Twin Room: ~¥9,480 (includes breakfast and a banquet-style dinner)
Web: mitaki-sanso.com
Check in: From 3pm
Day 6 – To Katsuura Onsen
Katsuura Onsen, located on the southeast coast of the Kii Peninsula, is about a 7.5 km hike or a short bus ride from Kumano Nachi Taisha. It is basically a fishing port turned hot spring resort and there are multiple onsen located throughout the village – almost all are in hotels and ryokan. Most of these baths are also available for day use and a full list of onsen and footbaths is available at the JR Kii-Katsuura Station Information Center. It is well worth an overnight stay to top off a wonderful week in the Kumano region.
Nakanoshima Ryokan, on a small island in Katsuura Bay, has a magnificent outdoor rotemburo bath with a bay view. The most noticeable landmark in Katsuura, however, is the Hotel Urashima. It feels like an onsen theme park, not unlike the seemingly endless bathhouse in the anime film Spirited Away, and is located on an island-like peninsula in Katsuura Bay. There are seven baths dotted throughout the facility (there is a map to help you find them all!) including the main attraction, which is the one in a cave overlooking the Pacific Ocean called Bokido Cave Onsen. The steady crash of wave against rock is the perfect soundtrack for your last luxurious natural-hot-spring soak before transitioning yourself out of the realm of Kumano and back into reality.
Accommodation Option:
Hotel Urashima
Tel: 0735-521-011
Access: Ferry departs the sightseeing pier in Nachikatsuura Port a few times each hour. (Port is a 10-min walk from JR Kiikatsura Station.)
Cost: Prices vary according to room type and include breakfast
Web: hotelurashima.co.jp/en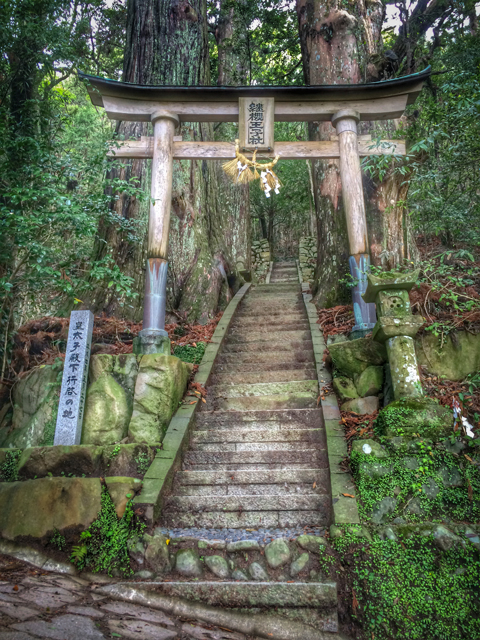 ---
Getting There
From Osaka: Limited Express Kuroshio train from JR Tennoji Stn to JR Kii-Tanabe Stn (~120 mins, ~¥5,000), bus to Takijiri-oji (leaves Kiitanabe Stn from Stop 2, ~40 mins, ~¥930), begin hiking from Takijiri-oji.
Booking Accommodations
It is usually necessary to book accommodations months prior to a Kumano Kodo hike. Start the reservation process now for a spring 2017 hike – especially if planning to go during Golden Week.
The Tanabe City Kumano Tourism Bureau website hosts the official reservation system of the Tanabe City/Kumano region, however ample time is needed to book using this method (responses can take time and the website states reservation requests must be made at least 7 days in advance).
Online Booking: tb-kumano.jp/en/kumano-travel/how-to-book
Guesthouses can be contacted directly by phone, and a few by email, though contact numbers and emails can be hard to find and a Japanese speaker is usually necessary.
Travel Tips
It's a good idea to arrange to have your luggage transferred between your accommodations so you don't have to carry excess baggage while hiking. Most guesthouses will provide the service for around ¥1,500 per person per day.
Print out route maps and bus timetables before you go. Both can be a little tricky to follow so always be sure to clarify information with minshuku staff before you set off on each day.
Maps: tb-kumano.jp/en/kumano-kodo/maps
Bus Times: tb-kumano.jp/en/transport/bus
General Info: tb-kumano.jp/en
---